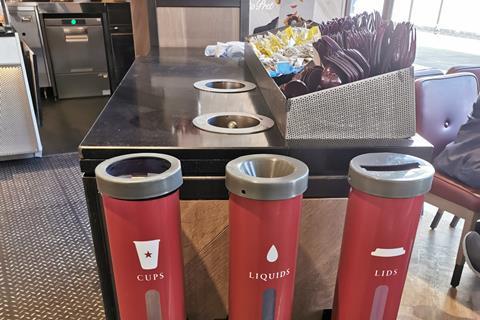 Pret A Manger will accept used paper coffee cups from any high street store in its shops as part of a new recycling service.

The chain has introduced recycling points at 350 of its 400 UK branches and is promising cups dropped in them will be turned into "high quality stationery and packaging". It follows a trial of the move in branches in London, Leeds and Glasgow.

The recycling points can be found on the shop floor, to make them more visible to customers and passers-by.

"We are absolutely committed to improving recycling rates of our coffee cups and we want it to be as easy as possible for customers, and those passing our shops, to get involved," said Pret director of strategy & sustainability Laura Gutowski.

"That's why we have put our recycling points on the shop floor, rather than hidden away behind the counter, and why we'll happily accept any high street coffee cups, not just those from Pret."

Pret also claimed today that the number of customers bringing in reusable cups had increased nearly 20-fold since the discount was doubled to 50p in January 2018.

More than 150,000 Pret drinks are now served in reusable cups each week, and over six million paper cups have been saved since the beginning of last year, the coffee chain said.