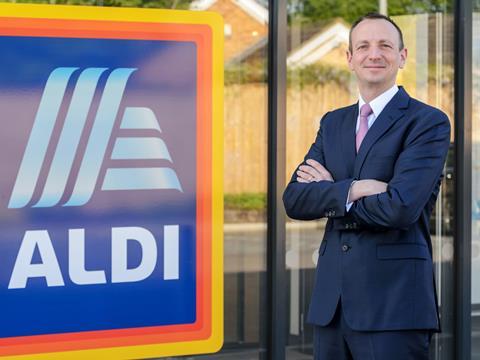 Aldi will cut prices if that's what it takes to stay cheaper than Jack's, the discounter's CEO for the UK and Ireland has said.

"We won't be beaten on price," Giles Hurley said.

Responding to a price comparison by The Grocer which found Tesco's new discount chain was £1.87 cheaper for a basket of 35 items, Hurley said: "I meant what I said. We'll always make sure that UK customers get the very best value when they shop at Aldi. If we need to reduce retailer prices, we will."

The Grocer's comparison matched 35 items from a Jack's flyer sent to customers ahead of the first store opening in Chatteris, Cambridgeshire, last month. Jack's came in with a total of £38.60 while Aldi and Lidl were each charging more than £40 for the same or equivalent products.

The items included 350g of Broccoli at 39p in Jack's compared to 53p in Aldi, and 400g of custard creams at 36p compared to 42p.
Speaking after Aldi released its results for 2017 this morning, Hurley said: "The situation with Jack's is still very fluid. There are only a couple of stores open and we're looking very carefully at their offering."

Hurley also announced a new target of growing Aldi's UK store estate to 1,200 by 2025 and said the discounter was on course to hit an existing target of 1,000 by 2022. Aldi currently has around 775 UK stores.

Hurley said the expansion would have "a particular focus on several hundred strategic towns currently without an Aldi store". It would also include the opening of two new regional distribution centres, in Sheppey and Sawley, with a third planned in Bedford, he said.

Together with investment in regional distribution centres, the new stores will create 5,000 new jobs over two years.

Hurley admitted the new 2025 target represented a slight slowdown in the rate of store openings from 2022 onward.

"From 2022 onwards the store opening will reduce very slightly but I think we're splitting hairs a little bit," he said.

"I think the reality is we're a retailer with a national presence and we will have effectively served many of the customers that we're seeking to look after."

He said Aldi would continue with Project Fresh, a £300m store modernisation programme. Over 200 existing stores were set to have been converted by the end of this year and a further 380 stores by the end of 2021.

Aldi UK & Ireland grew annual sales by 16.4% to £10.2bn last year.

During the year to 31 December 2017, Aldi UK and Ireland also grew operating profits by 26% to £265.9m as operating margin improved from 2.4% to 2.6%.

Sales topped £10bn as Aldi attracted 1.1 million more customers during the year to 15.8 million people.

Over 70 new stores were opened in the period.

Hurley said like for likes had grown but would not reveal a figure.

"We don't look too closely at like-for-like sales," he said. "They're not that meaningful in the context of where our business is at. We're opening anywhere between 60 and 70 stores a year and of course that has a similar impact on the sales dynamic."

He added: "In some areas we're actively seeking to cannibalise our sales because we have stores which we believe aren't offering the best shopping experience, whether that be aisles that are too busy or car parks that can't cope with the number of customers.

"Our like-for-like sales are positive but that's far from front of mind for us."