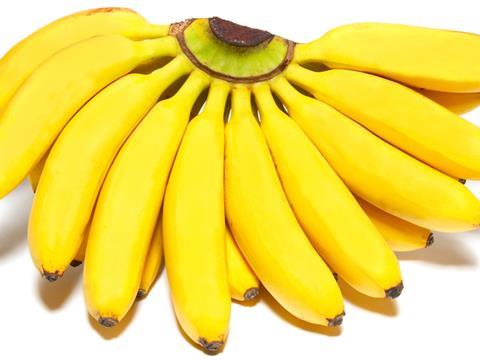 Asda has increased its price for a kilo of bananas from 68p to 72p, the first price hike in the mults in more than two years.
The price increase on the supermarket staple, which has been a driver in the supermarket price war for many years, follows similar moves by Aldi and Lidl earlier this month.
It is the first upward move in price by any of the five biggest supermarkets since July 2014, when both Sainsbury's and Waitrose briefly lifted their prices from 68p to 79p [BrandView.com] in the wake of rising costs pushed up by lower production.
The price change reflected growing inflationary pressures on the mults due to the weak pound and uncertainty over Brexit, said one fruit and veg industry source, with bananas generally bought in dollars.
"There has been bad weather in Costa Rica recently, but I don't think that would be the reason for this price increase," the source said. "It's more a symptom of inflation around the Brexit vote, and I would suspect long-term supply contracts are now coming to an end and being renegotiated based on the currency situation."
Apart from an earlier five-week increase by Waitrose and Sainsbury's in January 2014, and a similar price hike by Sainsbury's between December 2012 and April 2013, prices for a kilo of loose bananas in the mults have remained stable at the often controversial 68p price point since December 2011.
Asda's price hike follows a similar move by the retailer on milk in October, when it increased the rsp of four pints of fresh milk by 4p to 99p.
The price for a kilo of loose bananas in Sainsbury's, Tesco and Waitrose remains at 68p, while Morrisons sells only bagged bananas, at £1 for a bag of five.
The increase was welcomed by Alistair Smith, international co-ordinator for NGO Banana Link, which has been campaigning for several years against low supermarket prices for bananas.
"We would like to think this is a first step in the right direction on banana pricing and the first signal towards the end of the banana price war in UK supermarkets," Smith said. However, he cautioned the move was likely to be a result of currency fluctuations rather than a specific move by the retailer to deliver a higher price to growers.
"It's a step in the right direction but this is far from the sustainable pricing we have called for."
Asda has been approached for comment.