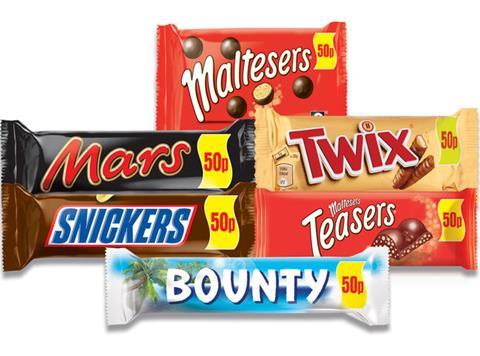 As Mars warns Brexit could push up the price of its bestselling chocolate bars, latest data reveals confectionery brands have already made big cuts to supermarket promotions.

There were 105 featured space promotions for Mars products in the mults last month, down 53.9% year on year, while Nestlé deals were down 35.9% at 221.

Both brands have also cut average savings - which are down 1.3% for Mars and 3.1% for Nestlé compared with last year.

"Cadbury is the only confectionery brand to show an increasing number of promotions, up by 27% to 445 in 2017 compared to 394 in the same period in 2016," says Assosia director Kay Staniland.
"But again whilst consumers seem to have a lot of choice with Cadbury, it is reducing the savings - down 5% on last year."

All three chocolate brands ramped up promotional activity in the till aisle ends, with Mars (up 5.1%) showing the biggest increase, followed by Cadbury (4.4%) and Nestlé (2.5%).

"Over the last 18 months, retailers have moved away from the 'unhealthier' items being on display on the actual till locations, so it would appear that confectionery brands are pushing for these promotional locations as the next best option."

There was also a big shift away from multibuy deals towards single price point promotions by the three major confectionery brands. "Cadbury uses X for Y in only 14% of its promotions (down 23.2%), Nestlé has both bogof and X for Y at 22.1% (down 16.2%) and Mars recorded 6.7% of multibuy offers (down 23.6%)," adds Staniland.

In total, confectionery brands increased their share of featured space promotions to 8.4%, up marginally from 7.9% last year, but average savings were down 5.7% year on year.

Speaking to the American Chamber of Commerce in Brussels on Friday, Fiona Dawson, head of Mars Food, said confectionery would face a 30% tariff if the UK failed to secure a free-trade deal with the EU post-Brexit. It would have to pass on those costs as price rises to consumers, she warned.