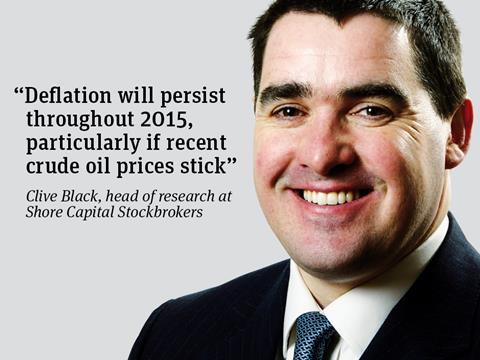 British food is grappling with deflation, which has been part of the trading scene for all of 2015. While it is possible to be more sanguine about the volume picture - which itself may partially be a function of deflation - there is no doubt falling prices are a constraint on retailers and suppliers alike.
The sight of a combine harvester throwing up dust in Lincolnshire and bales of straw trundling around the roads of Yorkshire brings to mind one of the key drivers of food pricing: the northern hemisphere harvest. If all the crop reports are correct, we will soon be welcoming another fulsome load of grains, beans and seeds.
That probable harvest alongside weaker-than-anticipated demand for soft commodities, particularly from Asia, makes for little near-term upward price pressure. Additionally, the anniversary of the 2014 oil price collapse, which took hold from September, may not be as inflationary as first thought, following political agreements involving Iran that may bolster open market global energy supplies.
Furthermore, the strength of sterling against the euro - now exceeding €1.40:£1 - is likely to bolster buying terms for imports of eurozone produce into the UK, while competitive tension among the supermarkets remains a downward force on prices. Just look at the price of milk in stores.
So given all these processes, where do we see food prices going in the UK? For now we feel deflation will persist throughout 2015, particularly if recent crude oil prices stick. Going into 2016, we see few signs of an appetite for higher prices from market trendsetters, most particularly the discounters, while the superstores must see through the narrowing of price differentials on proprietary brands and fresh food.
Accordingly, we expect easing deflation but no return to robust inflation any time soon, though comparatives may ease the deflationary rate. Rather, we see the need for some new circumstance - such as a devaluation of sterling, a spike in crude prices, a poor southern hemisphere harvest and/or price stabilisation in the market - to drive prices higher. In this respect, could the chancellor's national living wage be one such force that leads to higher prices?
Clive Black is head of research at Shore Capital Stockbrokers