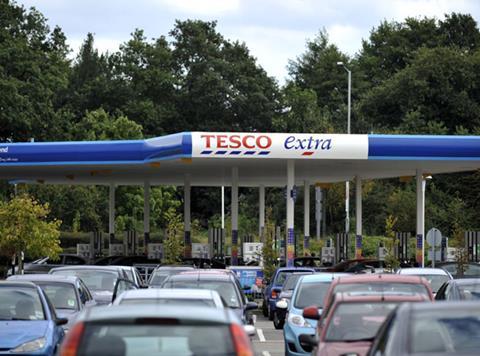 The supermarkets are hoping to woo the bank holiday crowds with a new round of fuel price cuts beginning today.
Asda announced yesterday it would cut prices at the pump so that motorists would pay no more than 124.7 pence per litre (ppl) for unleaded or 128.7ppl for diesel. Asda – which has 233 outlets and a 6.7% share of the market according to Forecourt Trader's Market Review 2014 – operates a national price cap on its forecourts.
Sainsbury's also said yesterday it would reduce the price of unleaded petrol by up to 2ppl and diesel by up to 1ppl. It has 294 forecourts and a 10.3% share.
"We always aim to offer our customers the very best value on everything we sell – and fuel is no exception," said Avishai Moor, Sainsbury's head of fuel. "From today we're dropping the price of unleaded petrol and diesel at all our petrol stations, helping drivers across Britain make real savings when they fill up with Sainsbury's."
Tesco has matched Sainsbury's price drop and said its cuts would be in addition to the savings customers could make through its Fuel Save scheme, which rewards Clubcard holders with 2p off a litre of fuel for every £50 they spend in store.
"As Britain's biggest fuel retailer this means more motorists can make real savings," said Peter Cattell, Tesco fuel director.
Tesco is the biggest supermarket seller of fuel, with 499 outlets, and has the largest market share of any fuel retailer, at 16.5%.
A spokesman for Morrisons said it would not be following suit with a nationwide price cut but would look to adjust prices on a local basis.
"We are already offering some of the cheapest fuel in the country and will be evaluating our pricing levels to ensure we remain competitive," said Mark Todd, Morrisons' director of retail petrol.
Morrisons has 331 outlets and a 10% market share.
2011 prices
UK fuel prices were now down to levels not seen since 2011, according to Shore Capital analyst Darren Shirley, who attributed the fall to lower oil prices and a strong Sterling.
"In a week after which there was much discussion about weak earnings momentum and still falling living standards in the UK, lower fuel prices should feed into CPI if they persist," Shirley said. "More broadly, manufacturers and distribution companies will also be toasting lower fuel costs should they be sustained as they should also bolster margins."
Separately today, the Office for National Statistics reported that the headline rate of inflation fell back to 1.6% in July, versus 1.9% in June.
Update 21 August: Morrisons said yesterday it would cut the price of both unleaded and diesel by up to 2p a litre.