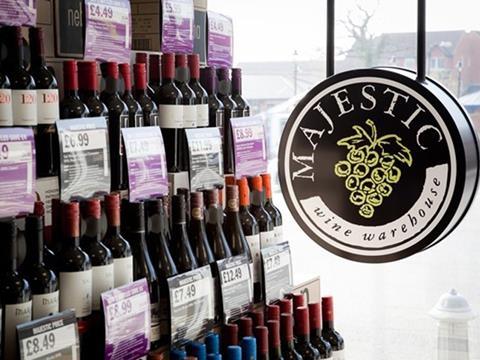 Majestic is to drop the six-bottle minimum purchase rule across its business from tomorrow (27 October).
Shoppers will be able to buy wine by the bottle across the retailer's store network and online following a successful trial in selected Majestic stores since the spring.
"Our customers were telling us that they wanted simpler, clearer pricing, and an end to the six-bottle minimum," said Majestic Wine CEO Rowan Gormley. "This new structure is part of our wider plan to reposition Majestic Wine to become the go-to destination for the best-quality wines at the best prices."
In addition to dropping the six-bottle minimum, Majestic has introduced a new pricing policy for Christmas that will give shoppers between 10% and 33% off their purchase when they mix six wines and spirits. The retailer is also offering free delivery and glass hire in the run-up to Christmas, and has promised a full refund on purchases - 'without delay or debate' - if shoppers are not satisfied with any product.
The trial of single-bottle purchases kicked off in May in six stores: Belgravia, Newcastle, Darlington, Northallerton, Durham and Hexham. Similar trials were carried out in 2009, before the retailer cut its minimum purchase from 12 bottles to six.
In June, Gormley announced he was cutting the business's store estate expansion plans after announcing a 22.5% drop in pre-tax profits. As part of a full strategic review of the business following its April purchase of Naked Wines, he said Majestic was cutting its maximum estate ambitions to 225 to 250 stores from its previously stated aim of 330.
The business last month appointed John Colley, a former director at B&Q, as managing director to head up the store network.
Majestic recently launched is first own-label wines, marking the first time the retailer has sourced wine wholly itself.