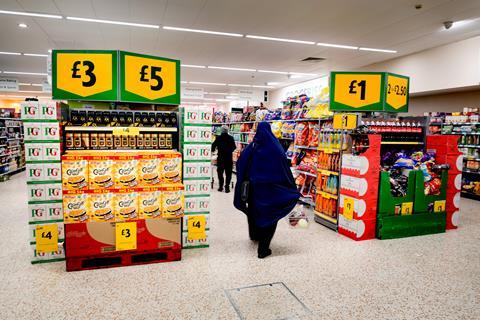 Morrisons has said it will go ahead with HFSS multibuy deals to help customers facing the cost of living crisis.
The supermarket is the first of the big four to commit to continuing the deals, after the government announced just over a week ago it was delaying the ban on "unhealthy" volume promotions for a year, along with its proposals on a junk food advertising clampdown.
Last week, Tesco announced it would go ahead with axing volume promotions on HFSS products from October, regardless of the rowback by ministers.
It said research among its customers showed the vast majority wanted to eat more healthily and wanted help from supermarkets to do so.
Sainsbury's has also said it will follow the original timeline and had phased out multibuy offers in 2016 in favour of "regular low prices".
Asked what its approach would be, a spokeswoman for Morrisons said: "The government will continue to permit multibuy deals in light of the cost of living crisis and our approach will reflect this."
However, Morrisons stressed a "significant number" of its promotions were on healthy foods, with 54% of its own branded pre-packaged products considered healthy, with a target to reach 65% by 2025.
It has also removed nearly 10 billion calories, 792 tonnes of sugar, and 90 tonnes of salt from its products under the voluntary reformulation programme.
Last summer the supermarket also rolled out a breakaway front-of-pack labelling system, after claiming the existing traffic lights model brought in by the Department of Health in 2013 was no longer fit for purpose.
Its nutrient profiling 'funnel model' is a combination of the UK's 2004/05 nutrient profile system, the French Nutri-Score system and the Australian Health Star Rating, overlaid with the DH traffic lights system, which is currently being reviewed by ministers. Morrisons is also among supermarkets giving out free fruit to kids and claims to run the widest number of fruit & veg promotions per week.
However, health groups have called for other retailers to follow Tesco's lead.
"Obesity levels are rising among adults and children and the health of our nation must be at the top of the agenda," said Food Foundation executive director Anna Taylor. "Well done Tesco for doing the right thing, despite the government's u-turn."
National Food Strategy author Henry Dimbleby, who has slammed the government backtrack, said Tesco's move was "good to see".