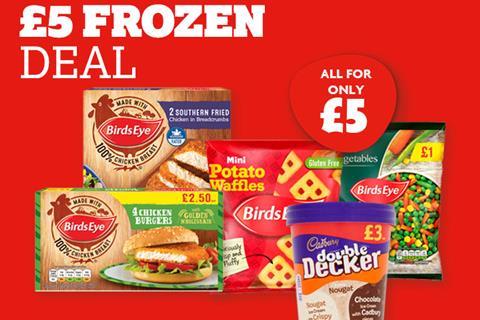 Nisa has launched a multibuy deal to ramp up frozen sales this month, with five staple items from the freezer on offer for £5.
The deal includes four Birds Eye products (two-packs of southern fried chicken fillets, four-packs of chicken burgers, 23-packs of mini potato waffles and mixed vegetables), as well as a 480ml tub of Cadbury Double Decker ice cream.
Nisa said the deal amounted to a saving of £5.80 on the rrp.
The promotion at retailers will run in stores from 4 to 24 March and will be supported by dedicated PoS material, as well as being advertised on Nisa's consumer-facing website, social media channels and leaflets.
"Frozen foods offer shoppers a quick and convenient meal solution and this promotion is designed to help them stock up on all their favourites for less than half the rrp," said David Lunn, wholesale category controller for frozen at Nisa.
"Convenience stores are well placed to cater for the meal-for-tonight shopper mission, particularly those shoppers looking for great value, and we hope the deal will support our retailers in driving additional sales in this category."