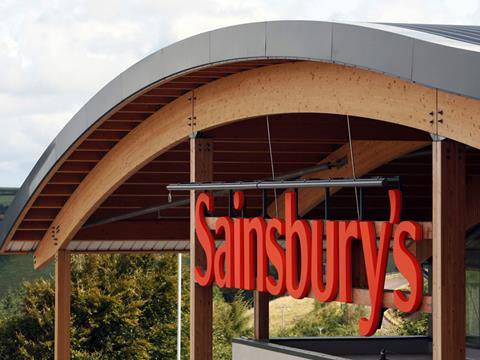 Sainsbury's has shown its hand in the January supermarket price war, unveiling £150m worth of price cuts on more than 1,000 products.
Prices have been slashed across popular categories such as bakery, dairy, and meat & poultry. Cuts are to include a 1.35kg whole chicken falling in price from £4.50 to £3.50, and two 225g packs of smoked and unsmoked bacon rashers coming down from £4 to £3.50.
Sainsbury's said the £150m was an annual price investment that was being used to "cut regular prices on over 1,000 of the most popular items in customers' baskets – the things customers really buy each week."
"We are investing £150m per year for the next three years in some of our customers' most popular purchases, with a total of 1,000 prices cut since we announced this investment in November," said CEO Mike Coupe. "This will come as welcome news to customers who might be feeling the pinch after Christmas. These lower everyday prices are a part of our ongoing commitment to offering our customers great quality products at great prices."
Sainsbury's added that customers would see more than 700 new regular prices in supermarkets this week in addition to over 200 put in place following a first round of cuts in November.
The price cuts come ahead of Sainsbury's 7th of January third-quarter trading update. Similarly, Asda revealed earlier today it was ploughing £300m into price cuts on 2,500 household favourites in the first quarter of 2015 in its biggest-ever rollback campaign.
Table: Sainsbury's Price Cuts
Sainsbury's Price Cuts

| Description | Category | Old price | New price |
| --- | --- | --- | --- |
| White Sandwich Loaf, 800g | Bakery | £1.30 | £1.00 |
| Wholemeal Farmhouse, 800g | Bakery | £1.30 | £1.00 |
| Giraffe Bloomer, 800g | Bakery | £1.30 | £1.00 |
| Plain Tortilla Wraps, 8 | Bakery | £1.20 | £1.00 |
| Tomato & Three Bean Soup, 400g | Canned & Packaged | £0.65 | £0.55 |
| Cream of Tomato Soup, 400g | Canned & Packaged | £0.65 | £0.55 |
| Semi Skimmed UHT Milk, 1l | Canned & Packaged | £0.90 | £0.70 |
| Strawberry Jam, 454g | Canned & Packaged | £0.75 | £0.65 |
| English Salted Butter, 250g | Dairy | £1.10 | £0.95 |
| English Unsalted Butter, 250g | Dairy | £1.10 | £0.95 |
| Scottish Unsalted Butter, 250g | Dairy | £1.10 | £0.95 |
| Scottish Salted Butter, 250g | Dairy | £1.10 | £0.95 |
| Orange Juice FC Smooth, 1l | Dairy | £1.10 | £1.00 |
| Orange Juice NFC Smooth. 1l | Dairy | £1.60 | £1.40 |
| Apple Juice NFC, 1.75l | Dairy | £2.40 | £2.30 |
| Pineapple Juice NFC, 1l | Dairy | £1.60 | £1.40 |
| Chicken & Sweetcorn Soup, 600g | Meal Solutions | £1.80 | £1.40 |
| Petits Pois & Ham Soup, 600g | Meal Solutions | £2.40 | £2.00 |
| Buttery Mash | Meal Solutions | £1.50 | £1.20 |
| Cottage Pie, 400g | Meal Solutions | £3.60 | £3.30 |
| Chicken Korma & Rice, 500g | Meal Solutions | £3.30 | £3.00 |
| Chicken Chow Mein, 450g | Meal Solutions | £3.30 | £3.00 |
| Chicken Breast Fillets, 460g | Meat Fish & Poultry | £4.50 | £3.50 |
| Salmon Fillets, 240g | Meat Fish & Poultry | £4.50 | £3.30 |
| British Thin Cut Loin Steaks, 450g | Meat Fish & Poultry | £4.50 | £3.60 |
| 10% Fat Beef Mince, 500g | Meat Fish & Poultry | £3.95 | £3.35 |
| 8 British Pork Sausages, 454g | Meat Fish & Poultry | £1.40 | £1.10 |
| 10 Ultimate Sausages, 690g | Meat Fish & Poultry | £4.50 | £3.50 |
| Whole Chicken, 1.35kg | Meat Fish & Poultry | £4.50 | £3.50 |
| Chicken Thigh Fillets, 615g | Meat Fish & Poultry | £4.50 | £3.50 |
| 12 Smoked Back Bacon, 2 x 225g | Meat Fish & Poultry | £4.00 | £3.50 |
| 12 Unsmoked Bacon Rashers, 2 x 225g | Meat Fish & Poultry | £4.00 | £3.50 |
| Boneless Lamb Shoulder, 400g | Meat Fish & Poultry | £4.00 | £3.60 |
| Rind-on Unsmoked Gammon Steaks, 450g | Meat Fish & Poultry | £4.50 | £3.50 |
| Quick Cook Turkey Steaks, 428g | Meat Fish & Poultry | £4.50 | £3.50 |
| Unsmoked Gammon Joint, 750g | Meat Fish & Poultry | £4.00 | £3.50 |
| Boneless Cod Fillets, 260g | Meat Fish & Poultry | £4.00 | £3.30 |
| Breaded Chunky Cod, 350g | Meat Fish & Poultry | £4.00 | £3.30 |
| Lean Diced Beef, 450g | Meat Fish & Poultry | £4.25 | £3.60 |
| Thin Cut Lamb Chops, 275g | Meat Fish & Poultry | £4.00 | £3.40 |
| British Pork Chops, 525g | Meat Fish & Poultry | £4.00 | £3.30 |
| Breaded Plaice Fillets, 320g | Meat Fish & Poultry | £3.00 | £2.50 |
| Beef Steaks with Peppercorn, 324g | Meat Fish & Poultry | £4.00 | £3.50 |
| Chicken with Bacon & Mozzarella, 310g | Meat Fish & Poultry | £4.00 | £3.50 |