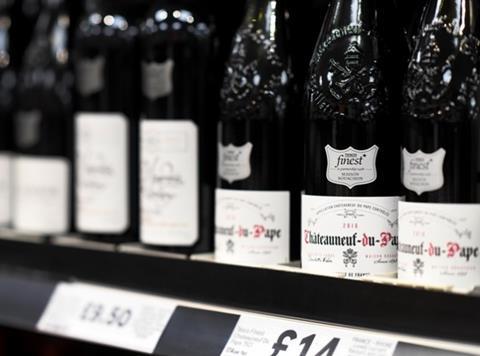 Supermarkets have slashed promotional savings on wine by almost a third compared with last year as cost pressures mount in the sector.

Shoppers taking advantage of deals to stock up on wine before Christmas will save just 20.4% on average, compared with 28.4% last year, latest data suggests [Promo Dynamic Retailers four w/e 4 November 2018].

Most of the major supermarkets have increased the number of deals on wine in stores against last year but, with the exception of Waitrose, they've all slashed savings.

Tesco has made the biggest cut to wine savings, down from 37.4% last year to just 16.7%. But shoppers are also saving less on wine from Asda (25.7% to 15.7%), Sainsbury's (27.7% to 14.8%), Morrisons (29.1% to 22.1%) and The Co-op (34.1% to 28.6%). Waitrose has increased average savings on its wine promotions from 28.69% to 29.37%.
It means average BWS savings have fallen from 22.9% last year to 19.8%, despite an increase in average savings on spirits and beer. "BWS has the lowest savings across all categories," says Kay Staniland, Assosia director.

It comes as commodity costs have been pushed up by the devaluation of Sterling, with Broadland Wineries, Enotria & Coe and Acoolade Wines among those warning profits have been hit as a result of the Brexit-related currency weakness, which increased the cost of importing wine.

The sector faces further cost pressure after the Chancellor announced last month the amount of tax charged on wine would rise in line with inflation - adding 7p to a bottle of still wine and 9p to a bottle of sparkling wine.

The WSTA predicted the move would cost the wine industry £90m over the next year, with the trade body's CEO, Miles Beale, decrying it as "grossly unfair, unjustified and counter-productive".