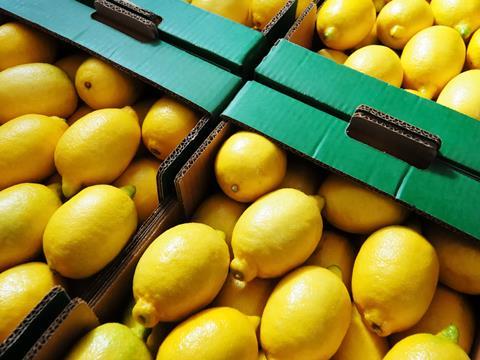 Supermarket lemon prices have reached their highest point for at least eight years amid warnings of supply shortages this summer.

The average price of single lemons across the Big Four rose by 17% to 34p between February and May, and current prices are almost 26% higher than this time last year [Brand View].

A series of weather events have affected this year's global lemon crop, which could push already high retail and wholesale prices even higher, lemon importers have warned.

Supplies had been affected by high temperatures in Spain during the key flowering period for the Verna variety, which resulted in very poor pollination and a heavily reduced crop, said Andy Weir of supplier Reynolds. As a consequence, Spanish lemon production for 2015/16 is expected at 850,000 tonnes, down 23% from the bumper harvest seen in 2014/15 [Mintec].
"Argentinean harvesting has also been delayed due to unseasonable weather, and while we at Reynolds are not experiencing shortages, market prices are very high for the time of year," Weir said. "Those without contracts in place are likely to struggle with availability."
Ongoing issues with citrus black spot disease in South Africa had also affected supplies, added Greencell commercial manager Ken Smith.

"Growers in the Eastern Cape are only now starting exports to Europe, which is a delay of 3-4 weeks from a normal season, while early lemons from northern South Africa mainly went to the Far East at very high prices," he said.

"This has all contributed to a vacuum of available lemons in Europe."

A 15kg box of lemons was now selling for £30 at wholesale, almost double the normal price, Smith said. "Under the circumstance, one would expect to see retail prices increasing."