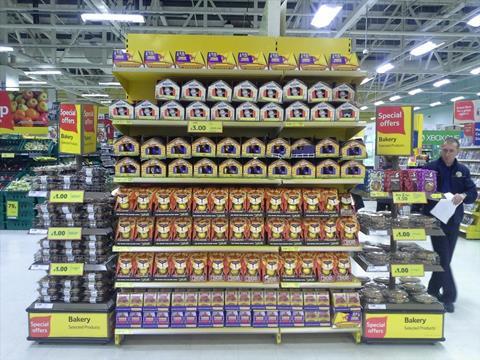 Reports of a possible CMA clampdown on supermarket deals and Sainsbury's announcement it will be phasing out multibuys later this year mean the mults' promotional strategies are once again under intense scrutiny.
In contrast to the flurry of publicity, however, actual deal activity has been relatively quiet over the past month. Entering the new year, the mults cut back on featured space promotions, although the savings on offer were more generous to shoppers feeling the post-Christmas pinch.
Every supermarket save Asda offered deeper discounts. Tesco led the pack with average savings of 35.51% across its 2,300 deals [Assosia]. This was an 18.25% increase on last month. It was also an 8.45% increase year on year.
"This is a reflection of its range review. It looks like consumers are starting to see the benefits already," says Assosia MD Kay Staniland.
Tesco's deepest cuts were in chilled dairy (44.59%), health, beauty & baby (43.34%) and grocery (44.03%). And some 36.61% of Tesco's deals were half price offers, a 10.35% increase y-o-y making it a more prominent feature than in any other supermarket. Fewer than 20% of its deals were multibuys.
Morrisons was the next generous, with average savings of 34.65%. Average savings at Sainsbury's increased by 4.35% month on month to 30.16% while Waitrose's cuts were 10.85% deeper, giving an average saving of 34.33%.
Asda stood still. At 27.83% it was the only multiple with a sub-30% average discount. And though it has redressed the balance to an extent compared with last year, Asda's mechanics continued to feature multibuys, which rely on shoppers having the cash to buy in bulk, more than rivals. Some 36.32% of its deals were x-for-y promotions (2015: 42.4%) versus 16.89% at Sainsbury's (2015: 39.28%).
Asda was also the only multiple to offer more BWS deals than last year, with sparkling wine up from no offers to 40 and spirits up from 12 to 92 year on year. Sainsbury's approach was more sober. It cut booze promos from 20.72% to 15.66% of its promotional mix, but ran 72 featured space promotions in the medicine category, a step change up from last year's eight. The lines included smoking cessation products such as Nicontinell and Nicorette, Slimfast and other, weight-loss products and Wellwoman vitamins.