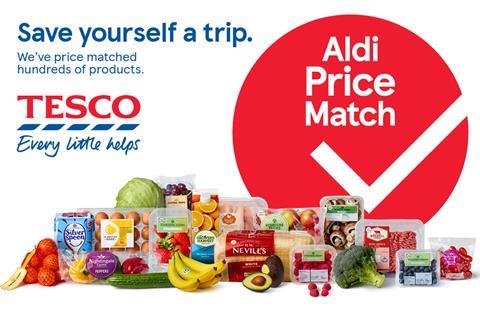 Tesco is to start price matching against Aldi across hundreds of products, in a major escalation of its price war with the discounter.
The Aldi Price Match campaign, launching today, will see key everyday products on the shelf matched to Aldi, with Tesco promising to check prices at its rival twice per week.
The campaign includes both own label and branded goods and will also apply to products ordered online at Tesco.com, it said.
The retailer named Tesco ripe bananas, Tesco whole cucumbers and Warburtons Toastie sliced white bread as examples of products in the price match, with a full list of around 300 products included available at Tesco.com/aldipricematch.
Products included will have a red Aldi Price Match bubble at the shelf edge and will also be marked up online.
Asked what criteria it uses for establishing a match around issues such as pack size, weight, and around matching its own-label tiering with that at Aldi, a Tesco spokeswoman said: "We have matched the products included by ensuring they have the same intended need or purpose for our customers."
The escalation follows the ramping-up of the battle between the retailers over the past 18 months, with Tesco having sought to undercut Aldi with its own-label Everyday Value products, but still being widely seen as more expensive overall than is rival.
Tesco's move will seek to take that price comparison out of the equation, signalling elements of a return to the days of Tesco's Brand Guarantee scheme, which was scrapped in July 2018 when Tesco said it would instead plough the investment into everyday lower prices.
The previous scheme, which launched in 2015, was a major weapon of Dave Lewis in Tesco's recovery, having been set up to try to replicate and nullify the original Sainsbury's Brand Match scheme.
However, Tesco has been increasingly left out on a limb, with Sainsbury's ditching the Brand Match promotion in April 2016 as the number of transactions it applied to dwindled, and the scheme was in danger of being made obsolete because it did not include the discounters.
Unlike Brand Guarantee, Tesco's new scheme will see prices change on the shelves.
Aldi CEO Giles Hurley has previously sworn Aldi would cut prices to retain the advantage whenever it is challenged by Tesco, saying "we will not be beaten on price", which raises the prospect of a brutal new phase of the battle.
In September last year, Tesco's claim to be "cheaper than Aldi" across a selection of products led to it being found guilty by the UK's advertising watchdog of misleading consumers.
The discounter lodged complaints about a series of press and television ads, launched in October 2018, which sparked a tit-for-tat marketing war between Tesco and the discounters.
The ads featured trolley and basket loads Tesco claimed were cheaper than at Aldi or Lidl.
The Advertising Standards Authority ruled Tesco had been in breach of laws, not because the own-label products were not cheaper than the discounters, but because they were "not widely available throughout Tesco stores".
However, Tesco said it believed its new campaign would take the Exclusively at Tesco brands campaign to a new level, alongside the recent launch of its new loyalty subscription service, Clubcard Plus, in which customers could save over £400 a year including 10% off two big shops each month.
"Our customers tell us they want the most competitive prices on the things they buy regularly," said Tesco chief customer officer Alessandra Bellini.
"This campaign will help time-poor and budget-savvy customers get Tesco products at Aldi prices on products that matter to them."
Bruno Monteyne, senior analyst at Bernstein, said the move by Tesco had "upped the ante again".
"Today's move is a step further as it is much more explicit," he said
"First it was Farm Stores, then it was Exclusively at Tesco, then it was Clubcard Plus. With Tesco having successfully completed its recovery early (at the interim results), this is another sign that Tesco is back to being the aggressor in the market."
However, Aldi vowed it would never be beaten on price.
A spokesman said: "Our promise to our customers is they will always pay the lowest prices on every product we sell. It's why millions of shoppers continue to switch to Aldi from our more expensive competitors, including Tesco. Aldi customers are guaranteed to make significant savings every time they shop with us."
One industry source added: "The battle for price is a boxing match and not a game of chess. This is an attempt at a tactical move by Tesco, which is all about marketing but I expect Aldi to come out into the boxing ring and smash Tesco over the head."