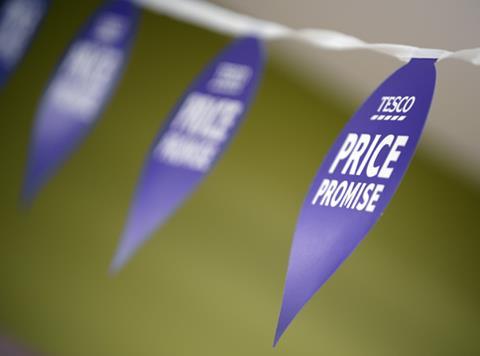 Tesco boss Dave Lewis is facing a pivotal decision over the future of the retailer's Price Promise scheme, amid speculation the supermarket giant is planning to simplify or even scrap it altogether.
Tesco told The Grocer today it was conducting trials at stores in Northern Ireland of a revamped version of Price Promise - which launched across the UK in March 2013 - under which customers can receive instant money off at the till.
Currently consumers receive vouchers to use on future purchases, capped at £10, if their basket of goods (both own label and branded) is more expensive than that at rivals Asda, Morrisons, and Sainsbury's. Some analysts claim the scheme is too confusing and not a big enough draw to ensure consumer loyalty, especially when taking into account competition from the discounters.
Northern Ireland was used as the original test bed for the rollout of Price Promise.
However, south of the border, Tesco Ireland has scrapped the Price Promise scheme, and some analysts are now calling for Lewis to do the same in the UK.
The retailer's Irish business, which in October 2013 announced a scheme to price match against discounters Aldi and Lidl across 1,000 grocery products, said its customers had communicated they wanted products that were at competitive prices not complicated price comparisons.
Price Promise, which launched in Ireland six months after the UK, has been replaced with a new slogan, Staying Down Prices.
"Our customers in the Republic of Ireland have told us that they want simple value prices on the everyday products that matter most to them," said a Tesco spokeswoman. "
"Through Staying Down, we have invested in reducing hundreds of everyday items and the customer response to this has been really positive. We're confident that our upfront investment in prices at the shelf edge is the right thing to do for customers in Ireland because we're seeing it in stores every day with uplift in transactions and volumes as customers respond positively."
A massage to consumers from the retailer reads: "Because you've told us you don't like prices constantly changing, our 'staying down prices' will remain down on hundreds of your favourite everyday products across the store; these are the products that you buy the most.
"As crops and seasons change, and time passes, some of these prices may need to change, but we promise to do our best to ensure they stay down for as long as possible. That's our guarantee to you."
The move comes with Lewis due to reveal more about Tesco's pricing strategy at its Q2 results in London on Wednesday. Some analysts have been expecting Lewis to launch a major new offensive on price, alongside his continued rationalisation of its range under Project Reset.
Price Promise had been billed by Tesco as a major plank in its UK strategy but some question whether such schemes could be going out of vogue.
"In pricing, as in politics, it is a battle of convincing swing voters/shoppers about the prices on swing voter issues/prices, rather than being the cheapest 'nationally representative shopping basket' (which doesn't exist)," said Bruno Monteyne, a senior analyst at Bernstein.
He told the Grocer: "I think this move in Ireland could be very significant and a sign of things to come in the UK.
"I think the world would be better off without Price Promise and I would applaud him for it if Dave Lewis does scrap it," he said.
"Tesco has already scrapped Fuel Save and the overall trend is towards simplification," added Bryan Roberts, an analysts at kantar Retail. "I am also led to believe that there might be some sort of move on price , possible in this week's results."
However, Roberts said Price Promise could survive if Lewis decided the Northern Ireland trial provided a more simple and attractive model to customers.
A Tesco spokesperson said:
"We're always looking at ways to make the shopping trip that little bit easier for customers, including improvements in customer service, updating our product ranges and continuing to offer everyday low prices on the products that matter most. We're currently in the early stages of trialling a new price offering in Northern Ireland and are looking forward to hearing what customers think of it."
The speculation over Price Promise comes with rival Morrisons earlier today confirming it was to overhaul its Match & More loyalty scheme and was abandoning the price-matching element.
Match & More was the first major supermarket scheme to price match against both Aldi and Lidl, as well as other traditional supermarket rivals.
Morrisons confirmed today that the scheme would be changing from 2 November to become more akin to traditional supermarket loyalty schemes such as Tesco's Clubcard or Sainsbury's Nectar.