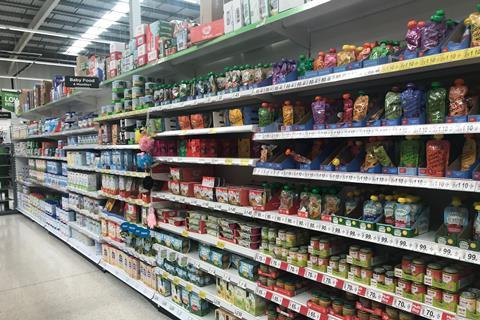 Asda has picked up the Grocer 33 annual pricing award for 22 consecutive years, but it has taken until week four to pick up its first cheapest basket of the current year.

This week the Competition & Markets Authority issued its final order on the now-scuppered Sainsbury's-Asda merger, preventing the parties from trying again for at least 10 years. Asda beat Sainsbury's into second spot. Its £61.01 total was £6.28 cheaper than the Holborn-based outfit.

Asda offered the lowest price for 18 items, with 13 of these exclusively cheapest. These ranged from the cantaloupe melon and asparagus to Diet Coke and DS fibre loaf. However, the biggest difference this week was a Rollback promotion on the Old Mout from £10 to £8. This meant Asda was £3 cheaper on the 10-pack of cider than any of its rivals.

Sainsbury's was running a £10 deal on the Old Mout last week but with it coming off promotion it went back to £12.50 this week, £4.50 more expensive than Asda. Overall, Sainsbury's was cheapest for 12 lines, with eight exclusively so.

Morrisons came in third this week. At £68.30 it was £7.29 more expensive than Asda. The retailer was cheapest for seven lines and exclusively so on the broccoli and Carr's Melts.

In a break from recent form, however, Morrisons did not have the most number of products on deal. This week Tesco had 11 offers compared with nine at Morrisons, Asda and Waitrose had seven each with Sainsbury's carrying just five.

Eight of Tesco's deals were multibuys, and as such it didn't affect its overall pricing as it came in £8.46 more expensive than Asda at £69.47.

Waitrose was exclusively cheapest for the Quorn vegan pieces and Total Greek yoghurt, but it was still a long way off the pace at £74.79.