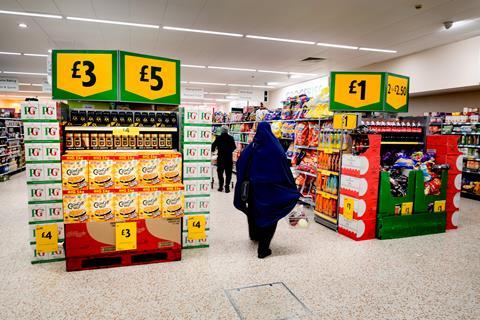 Morrisons ended Asda's four-week winning run to claim what is only its third Grocer 33 pricing victory of the year.

The Bradford-based retailer took top spot largely on the back of its current promotions-focused strategy. With 14 of the 33 items on our list on deal, Morrisons had almost double the number of offers compared with any of its rivals. Tesco had eight deals this week, Asda seven, Waitrose six and Sainsbury's just five. Morrisons has been consistently running more promotions than its rivals over the past quarter.

Its £52.35 total was £3.21 cheaper than runner-up Asda. It offered the lowest price on 14 lines, with seven of these exclusively so. Of these seven items, six were on deal this week including the Schweppes tonic water, Knorr stock cubes, Philadelphia soft cheese and trimmed leeks.

Asda actually offered the lowest price for 16 lines, with eight of these exclusively cheapest. Of these eight just three were on deal - the chestnut mushrooms, smoked bacon rashers and the roast chicken dinner ready meal.

Sainsbury's claimed third spot this week. At £56.98 it was £4.63 more expensive than Morrisons. It was the cheapest retailer for the easy peelers, Encona sauce and Magnum ice creams but only managed to offer the lowest price for seven products.

Tesco was also almost a fiver more expensive than Morrisons at £57.32 even though it offered the cheapest price for 12 lines, four of which were exclusively cheaper than its rivals.

Last week Waitrose had proved much more competitive than usual, but this time out it was well off the pace at £63.29. This was more than a tenner more expensive than Morrisons. It did, however, manage to undercut all its rivals on the Jordans cereal.