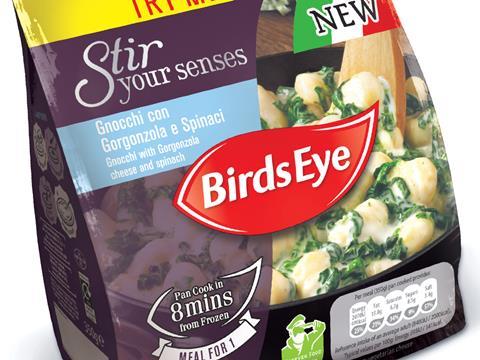 Who: Birds Eye

What: Birds Eye Stir Your Senses - Gnocchi con Gorgonzola e Spinaci

Where: Frozen ready meals

When: Launched March 2015

How much: Rsp: £2.99/350g

Why: The single-serve Stir Your Senses range comprises eight dishes inspired by cuisines from around the world. Prepared in a pan in under 10 minutes, the meals offer "quick and fuss-free" cooking, says the supplier. The brand is hoping to breathe new life into a total frozen ready meals category down 6.2% to £358.4m [Nielsen 52 w/e 11 October 2014].

Consumer verdict: These gnocchi with Gorgonzola cheese & spinach were an attractive pre-trial proposition for many. For the majority, the product continued to impress after sampling and above-average ratings were achieved across all key measures, resulting in an overall score just three points below the current maximum. A fifth of testers maintained this recipe was not for them and they would never buy, but the majority regarded it as a viable good-quality midweek meal or freezer standby. Many agreed it had brought something new to the category and was better than the competition.

Pre-trial purchase:51%

Post-trial purchase: 69%

Better than what's out there: 67%

New and different: 85%

Overall score: 44/50

What is Fast Foodfax?
It is a subscriber service that has been running for more than 30 years, offering consumer assessments of new products and allowing comparisons with more than 17,000 products from our database. It is objective, impartial and totally independent, and each product is assessed using original consumer feedback from respondents across the UK. See here for further information. Fast Foodfax is prepared by Cambridge Market Research, which works closely with The Grocer magazine on a variety of projects including the consumer judging element of the The Grocer's Own-label Food & Drink Awards and New Product Awards.
Tel. 01223 492 050 Email: Info@CambridgeMR.com