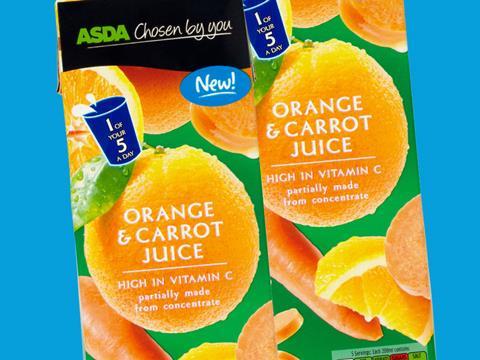 Who: Asda
What: Chosen by You Orange & Carrot juice
Where: Ambient fruit juices
When: Launched October 2014
How much: £1.10/one-litre
Why: Fruit and vegetable blends are a growing part of the juice drinks fixture and are becoming more mainstream. supermarkets increasingly offer a range of branded lines, and number two juices and smoothies brand Innocent rolled out cold-pressed fruit and veg juices to Starbucks last autumn. Own-label ranges are also embracing the trend, with Asda launching this orange and ­carrot juice into its mid-tier Chosen By You range last October.
Consumer verdict: This blend of orange and carrot juice tapped the growing fruit and vegetable juice category but failed to inspire our respondents ahead of trial. After sampling, testers complained of 'unbalanced' flavours - with the carrot juice dominating. As a result, the already low pre-trial purchase intent of 19% fell to 13%. And though two-thirds of testers felt the juice offered something new to the category, disappointment in the product affected sales potential, and more than half claimed they would never buy it. Among those who could be tempted to purchase, most felt they would do so only occasionally.
Pre-trial purchase: 19%
Post-trial purchase: 13%
Better than what's out there: 19%
New and different: 66%
Overall score: 26/50

What is Fast Foodfax?
It is a subscriber service that has been running for more than 30 years, offering consumer assessments of new products and allowing comparisons with more than 17,000 products from our database. It is objective, impartial and totally independent, and each product is assessed using original consumer feedback from respondents across the UK. See here for further information.
Fast Foodfax is prepared by Cambridge Market Research , which works closely with The Grocer magazine on a variety of projects including the consumer judging element of the The Grocer's Own-label Food & Drink Awards and New Product Awards.
Tel. 01223 492 050 Email: Info@CambridgeMR.com