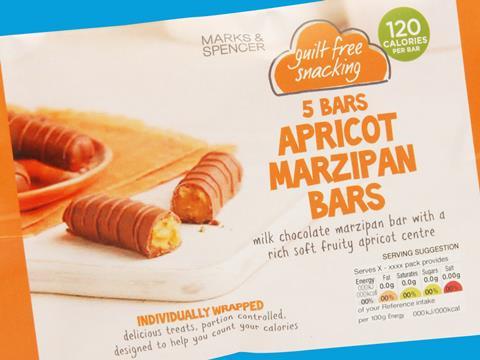 Who: Marks & Spencer

What: Apricot Marzipan Bars

Where: Handheld snacks

When: Launched August 2014

How much:£1.87/125g five-pack

Why: These bars are part of the M&S Guilt Free Snacking range that features products developed to contain less than 150 calories and flags the calorie content on front of pack. These bars weigh in at 118 calories each and, at £1.87 for a pack of five, are competitively priced compared with many confectionery lines.

Consumer verdict: The price point and attractive pack design helped promote a good level of pre-trial interest and engagement, making it an attractive proposition for many. For the majority of respondents, high expectations were met after tasting. The high quality often associated with M&S was in evidence, prompting comments of "creamy chocolate", "soft and sweet marzipan", "nice chunks of apricots". A few expressed concerns about the "artificially sweet" nature but the product delivery was generally good, as reflected in the achievement of an above-average overall score. Nearly half claimed they would definitely or probably buy the product.

Pre-trial purchase: 36%

Post-trial purchase: 48%

Better than what's out there: 55%

New and different: 81%

Overall score: 37/50




What is Fast Foodfax?
It is a subscriber service that has been running for more than 30 years, offering consumer assessments of new products and allowing comparisons with more than 17,000 products from our database. It is objective, impartial and totally independent, and each product is assessed using original consumer feedback from respondents across the UK. See here for further information.Fast Foodfax is prepared by Cambridge Market Research , which works closely with The Grocer magazine on a variety of projects including the consumer judging element of the The Grocer's Own-label Food & Drink Awards and New Product Awards.
Tel. 01223 492 050 Email: Info@CambridgeMR.com