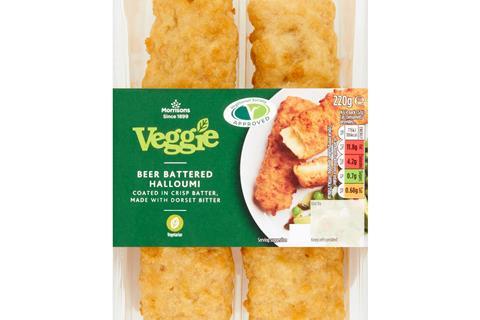 Who: Morrisons

What: Four slabs of halloumi cheese in beer batter

Where: Chiller

How much: £2.50/220g

Why: A perennial meat substitute in the on-trade, halloumi is hardly a new trend in grocery. This NPD from Morrisons wants to capitalise on its growing reputation as a stand-in for fish in fish and chips. The supermarket's take on it is certified by the Vegetarian Society.

Consumer verdict: Shoppers thought this was too expensive, but more than half agreed it was an "exciting new idea". After preparing and tasting it some liked the "crunchy batter and gooey cheese" but many found the batter "greasy and too thick", with the cheese itself "bland and artificial". Some were curious as to why halloumi would even be battered. Others said there was "too much batter and not enough filling" and that the batter was "too thick" with "not enough cheese, quite bland and chewy". Thus two thirds said they would "never buy" the product. Its overall score, 23, is only one point from the category minimum.

Pre-trial purchase: 38%

Post-trial purchase: 9%

Better than what's out there: 9%

Exciting new idea: 53%


Overall score: 23/50
All own-label lines reviewed for Acid Test can apply for accreditation in The Grocer Own Label Accreditation Scheme.