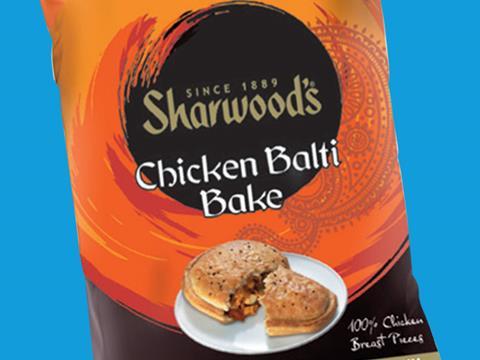 Who: Peter's Food Service
What: Sharwood's chicken Balti Bake
Where: Hot-eating savoury pastry products
When: Launched October 2014
How much: £1/150g
Why: Peter's Food Service - producer of Peter's Pies - launched the Sharwood's-branded pastry bakes after last year securing its first licensing deal with Premier Foods. The 150g bakes are made from puff pastry in a teardrop shape sprinkled with cumin seeds to reflect a naan bread. They come in four flavours that can be eaten hot or cold: Chicken Tikka Masala, Chicken Madras, Chicken Korma, and the Chicken Balti tested here.
Consumer verdict: There was a good level of pre-trial interest, with many considering this a novel and convenient light meal or midweek snack. Although a few testers suggested the bake was "too processed" and lacked filling, there was general acceptance and positive comments about the quality of the pastry and tasty filling. Regarded as innovative and relevant, three-quarters of the group felt it offered something new to the fixture, and nearly two-thirds believed it was better than the competition. More than 20% of testers said they would consider purchasing regularly, though 15% maintained it was not for them.
Pre-trial purchase: 45%
Post-trial purchase: 54%
Better than what's out there: 62%
New and different: 77%
Overall score: 41/50

What is Fast Foodfax?
It is a subscriber service that has been running for more than 30 years, offering consumer assessments of new products and allowing comparisons with more than 17,000 products from our database. It is objective, impartial and totally independent, and each product is assessed using original consumer feedback from respondents across the UK. See here for further information.
Fast Foodfax is prepared by Cambridge Market Research , which works closely with The Grocer magazine on a variety of projects including the consumer judging element of the The Grocer's Own-label Food & Drink Awards and New Product Awards.
Tel. 01223 492 050 Email: Info@CambridgeMR.com