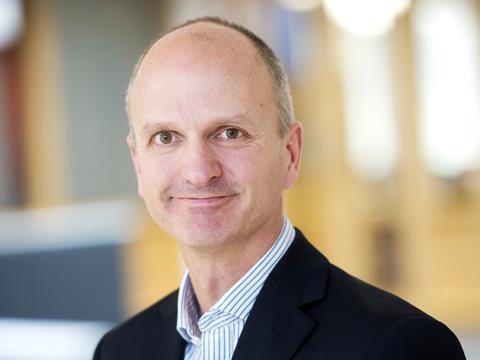 snapshot
Name: Tristram Wilkinson
Job title: Vice president/MD, Kimberly-Clark UK and Ireland
Age: 46
Marital status: Married with two young children
Career: He's worked in a number of marketing and commercial leadership roles at KC, both in the UK and overseas
Best career decision: To join Kimberly-Clark. "When you go through my career history, Kimberly-Clark has a very clear philosophy to invest in giving people experiences and I've had some exceptional opportunities with the company to move into different roles in different countries and also to move across functions"
Hardest career decision: I don't regret any decision, but the toughest was certainly the portfolio work we did two years ago
Business mantra: Surround yourself with people better than you
Who have you learnt most from: I've learnt something from everyone I've ever worked with
Hobbies: Anything outdoors but particularly sailing and golf
Favourite meal: Sushi with chips
What's your idea of a good day out: A BBQ on a beach with friends and family
Tristram Wilkinson uses the word 'growth' a lot. And that comes as something of a surprise given how 18 months ago this Kimberly-Clark stalwart, after taking over as vice president/MD of the fmcg giant's UK and Ireland operations in 2011, was responsible for axing the Huggies nappy brand.
Yet the momentous decision was to transform the fortunes of Kimberly-Clark, with share across all the categories it plays in over the past two years having risen.
So what prompted Wilkinson to axe the Huggies line? How has he been able to drive sales upwards? And what are his plans for the paper products company moving forward?
To the casual observer, the categories in which KC operates - loo rolls, facial tissues, paper towels and so forth - have changed very little over the years. But the dynamics are "always changing," says Wilkinson, and "in particular, in the past two years, we've seen changes in categories we're operating in that mean we've had to change our approach."
None more so, clearly, than baby change care. It's the fastest-growing segment in the childcare category, Wilkinson explains. And by that he means fresh competition not only from leading nappy brand Pampers but from discounters and own-label players too.
"[Axing Huggies nappies] was very hard. But we see our role within any category as being to add value to that category," explains Wilkinson. "If you look at any of the markets we now operate in we are brand leader. We are selling a premium quality at a premium price and we are generating category value. That's our role and we were not meeting that role in the nappy category."
Instead, Wilkinson chose to focus on and support those areas where Kimberly-Clark could drive the greatest growth. So the company significantly increased its advertising investment in toddler-based products like Huggies Pull-Ups and DryNites and has reaped the rewards. DryNites posted value sales growth of 13.8% [Nielsen 52 w/e 23 August 2014] and although Pull-Ups' sales are down 2.9% the total category is down 4.4% [Nielsen 52 w/e 19 July 2014].
Now he's focusing his efforts on the toilet paper market and facial tissues - two categories that are "challenged" for very different reasons. "The toilet tissue market has seen some value erosion as prices have come down in the last 18 months or so, whereas for facial tissue it's been consumption-led - or not. We've seen a decline in the number of people buying facial tissue in the last 12 months."
Mild winter
The decline was particularly noticeable during the last quarter of 2013 and the first quarter of 2014, thanks largely to the mild winter. To weatherproof the company's products from the elements in the future, Wilkinson has drawn up a new plan of attack. "Our strategy to overcome what has been a soft winter has been to recognise that hope is not a strategy - you can't hope for a strong winter every year - and to really drive consumption through the year."
"With Andrex we talk less and less about our products being 'soft, strong and long' and more and more about 'intimate hygiene, encouraging consumers to interact with the category"
The first stage of this strategy is innovation. "We need to innovate from a brand and a product perspective to drive relevance, so people who intuitively would use a tissue always have a tissue at arm's reach. That's our whole mantra: how do we ensure people who know they should have a tissue at arm's reach actually have a tissue at arm's reach? Which is frankly all the time."
The second question the new strategy addresses is 'how can Kimberly-Clark make tissues visible in store?' "It's what we refer to as an 'opt in' category," says Wilkinson. "So it's not quite an impulse category but it's not necessarily on your shopping list. As a fixture it wasn't that easy to navigate and as a total range it wasn't hanging together as well as it could."
The answer was a pack refresh of the entire facial tissue portfolio. "We've designed the packaging in such a way that Kleenex becomes a real beacon for the category, a lighthouse that makes it easier to identify the facial tissue category and to be prompted to stop and to shop it."
Intimate hygiene
In the heavily promoted toilet tissue aisle, the challenge has always been to avoid a "natural draw towards commoditisation," says Wilkinson. But this inclination has been heightened by the rise of the discounters.
"The growth of the discounters is a very significant development across all fmcg categories and it is one of the reasons why we're not only launching a new category strategy and vision within the tissue market but also the toilet paper market," says Wilkinson. "It forces us to look at how we as brand leaders transform our categories, not just our brands."
And that has meant not only innovation, but "a whole new commercial platform, innovating over and above the product to prompt people to think differently about the categories."
"Our mantra is to ensure people who know they should have a tissue at arm's reach actually have a tissue at arm's reach. Which is frankly, all the time"
Kimberly-Clark's new marketing campaign for flagship brand Andrex, launched in June, signals the shift of emphasis. "With Andrex we talk less and less about our products being 'soft, strong and long' and more and more about 'intimate hygiene,' really encouraging consumers to interact with the category and relate to it as a personal hygiene category, and not as paper."
Continual investment in NPD is not being limited to the tissue itself, but also "in terms of format and design because tissues is a product that you display in your home and it's important that we continue to introduce new designs that continue to reflect aesthetic trends."
Wilkinson is optimistic about Kimberly-Clark's growth prospects. "I absolutely believe we own our future, that it is completely within our hands to create and stimulate growth for the future.
"But what is essential is it's something we work on together with retailers. Innovation in product in itself is not enough. It has to be innovation in product, in brand, but also in the way we present our categories to shoppers in store. And if we do those three things we will absolutely deliver growth across our categories for the next five years."