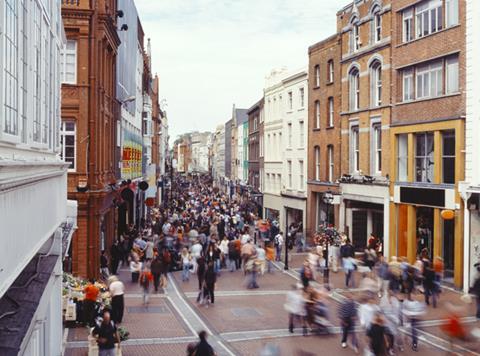 The bosses of 50 major retailers including Asda, Sainsbury's, M&S and Iceland have written to Sajid Javid demanding business rates reform.
The open letter urges the Chancellor to urgently scrap rules limiting how quickly business rates can fall in line with dropping rents, which cost retailers over £500m a year according to the BRC.
So-called 'downward phasing' staggers decreases in businesses rates over four years following a downwards rent revaluation. It keeps total business rate tax revenue neutral by paying for 'upward phasing', which staggers increases after rents rise.
The letter says the effect is that businesses in London are being subsidised by those suffering the most, in areas such as the Midlands and the north east, where rents are falling.
It calls for the downward phasing to be scrapped. The letter says that instead of using one to pay for the other, upward phasing should be funded centrally by the government, at a cost of £295m for 2020/21.
The letter is from British Retail Consortium CEO Helen Dickinson and signed by Asda CEO Roger Burnley, Sainsbury's CEO Mike Coupe, Iceland chairman Malcolm Walker and M&S CEO Steve Rowe. Other signatories include the CEOs of Debenhams, Greggs, Pret a Manger, Savers, Superdrug, Spar UK and The Orginal Factory Shop, and Poundland MD Barry Williams.
Timed ahead of next month's spring Budget, the letter calls for a promised government review of business rates to be "genuinely wide-ranging". It highlights how the industry accounts for 5% of the economy while contributing 10% of all business taxes and 25% of all business rate revenue.
"However, as this figure suggests, the burden of business rates has become unsustainable for many retailers in recent years, and the system is 'broken', according to the Treasury Select Committee, whose report was published in October 2019," the letter says, adding that none of the report's recommendations have yet been adopted.
Dickinson said: "The future of retail is an issue that matters to people everywhere – it employs three million people and serves the needs of the entire country. Yet transitional relief undermines both the industry as a whole, and many regions that it serves.
"Northern high streets effectively subsidise London banks, forcing a £600m transfer of wealth to the capital. This could be used to support investment in people and technology that would benefit all parts of the UK.
"Every year retail faces higher and higher business rates bills, holding back much-needed investment in an industry that is transforming at a dramatic pace. Swift action at the upcoming Budget would show the Chancellor was serious about levelling up all parts of the UK and supporting a retail industry towards realising a brighter future."