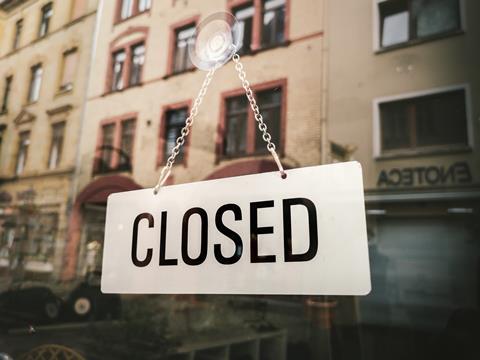 Businesses are facing a "rent judgement day" on 31 December, when government protections for tenants are set to expire, hospitality chiefs have warned.
A "bloodbath" of business failures will ensue at the potential cost of hundreds of thousands of jobs unless the protections are extended, according to UKHospitality.
Since spring, landlords have been banned from evicting commercial tenants as well as various avenues of debt enforcement action over unpaid rent. UKHospitality is the latest industry body to urge the government to extend the protections into 2021, following a similar call from the BRC.
Hospitality was still lumbered with a massive unpaid rent bill thanks to the pandemic, estimated at around £1.6bn, UKHospitality said. With many otherwise viable businesses unable to trade thanks to the tier system of restrictions, the sum would only have grown further by the next quarterly rent payment day on 25 December, it added.
UKHospitality also warned that many landlords had already declared their intention to make use of their renewed powers to evict tenants or issue winding-up petitions – which can force companies into liquidation – from 1 January.
The trade association is calling for the government to extend the debt enforcement protections for a further six months – a move that would take them to over a year in duration. It should be on condition tenants pay a minimum 20% of the rent debt, with the exception of businesses closed since March such as nightclubs, according to the body.
Country Court Judgements should be added to the list of banned practices, UKHospitality said. The Grocer revealed last week that four out of five major retailers had been pursued for rent by landlords threatening CCJs.
"An extension to the moratoria is needed immediately, as this issue is threatening the future of so many otherwise viable businesses and their teams," said UKHospitality CEO Kate Nicholls.
"The rent crisis, with the December quarterly rent day and the end of the moratoria fast approaching, is the biggest threat to the recovery and future of hospitality.
"There can be no more excuses about parliamentary time or available finance: this needs to be resolved, otherwise the support government has provided to the sector so far this year will all be in vain.
"The alternative is widespread business collapse and shocking job losses on an almost unthinkable scale. Unless this issue is resolved, there will be a bloodbath on our high streets and a much longer-term damaging impact on the UK economy."
The proposed extension is part of "seven-point plan" set out by UKHospitality. It wants an advisory level for rent forgiveness in closed sectors of 50%; tenants to make a "reasonable offer of rent debt payment"; 10-year low-cost government-backed property bonds; a "reset" rent review; a lease break clause with a 50% reduction in rent debt; and a long-term commercial property review.
The British Property Federation last month dismissed any extension of the protections as "unsustainable", pointing to analysis from Remit Consulting, which suggests commercial rent debt will have reached £4.5bn by the end of the year.
By 35 days into the current quarter, which started in September, a third of retail's rent bill for the period was still to be collected, while just over half of leisure's remained outstanding, according to Remit.
However, The Grocer revealed last week that BPF CEO Melanie Leech had said an ending of just one of the protections, against eviction, would be welcomed as a compromise, with the other two, against commercial rents arrears recovery and winding-up petitions or statutory demands, left in place.
Such a move by the government has also been predicted by quarters of the retail industry.