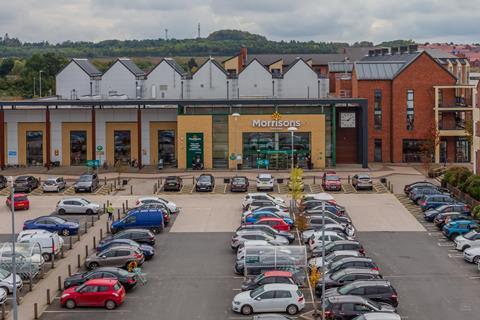 Top story
Supermarket Income REIT has purchased a Morrisons store in Telford from Santander Trustees for £14.3m, reflecting a net initial yield of 5%.
Developed in 2012, the four-acre site is located at a prominent roadside junction in the centre of Lawley Village, a new 3,550-home development. The site comprises a 42,434 sq ft gross internal area supermarket (27,000 sq ft net sales area) with 220 parking spaces and an online click-and-collect facility.
It is being bought with an unexpired lease term of 17 years, with a break option in the twelfth year. The lease is subject to five-yearly, upward-only, RPI-linked rent reviews (subject to a 3% cap and 1% floor).
The real estate investment trust also announced it had increased its debt facilities with Bayerische Landesbank by £34.8m, comprising a new £27.5m, secured, five-year tranche and a further £7.3m tranche, upsizing its existing £52.1m secured term loan for the remaining three-year term.
Proceeds will be used to finance recently acquired stores.
Ben Green, director of Atrato Capital, the investment adviser to Supermarket Income REIT, said: "This transaction represents an opportunity to acquire a modern Morrisons supermarket that is ideally located to benefit from the growing catchment at the centre of a significant 3,550-home development. We are also pleased to extend our relationship with BLB, a key funding partner for us as we grow."
Morning update
Unilever's plans to unify its legal structure under a single parent company based in the UK – announced in June – are moving along.
The consumer goods giant has today published a circular to shareholders of Unilever NV and Unilever PLC and expects to publish a prospectus for Unilever PLC later on.
The circular contains further information on unification, the common draft terms of merger and the notices of meeting for an extraordinary general meeting of Unilever NV and shareholder meetings of Unilever PLC.
The prospectus will be published upon receipt of approval from the UK Financial Conduct Authority and will relate to the proposed listing of new Unilever PLC shares on the premium listing segment of the official list and to trading on the main market of the London Stock Exchange and the admission of the Unilever PLC shares to listing and trading on Euronext in Amsterdam.
The Unilever NV extraordinary general meeting will take place in Rotterdam on 21 September 2020. The Unilever PLC shareholder meetings will take place in London on 12 October 2020.
Unification is expected to complete over the weekend of 21 and 22 November 2020, meaning that the expected last day of trading in Unilever NV shares (including Unilever NV shares in New York registry form) would be 20 November 2020.
Elsewhere, it is a quiet start to the week, with the FTSE 100 opening positively, up 0.8% to 6,079.97pts.
WH Smith was among the early risers, up 3.3% to 965.5p. AG Barr also opened 1% up to 439.8p, ABF rose 1.1% to 1,905p and M&S was up 2% to 105.6p.
Naked Wine shed some of last week's gains, falling 2.1% to 476p. Other early fallers today included Nichols, down 1.6% to 1,250p, and Ocado, down 1.6% to 2,205p.
This week in the City
Retail news is looking a little thin on the ground as the City basks in a heat wave, but storm clouds are on the horizon.
The UK is expected to officially fall into recession on Wednesday when the latest GDP figures show two consecutive quarters of negative growth.
The economic indicator will be preceded on Tuesday by the latest unemployment figures, which should include the worst of the crisis, covering the three months to June.
The BRC-KPMG Retail Sales figures for July are also out first thing on Tuesday.
Fast food chain Domino's will report half-year results for the UK and Ireland on Tuesday. And in the wider retail world, Sports Direct owner Frasers Group report full-year numbers on Thursday.