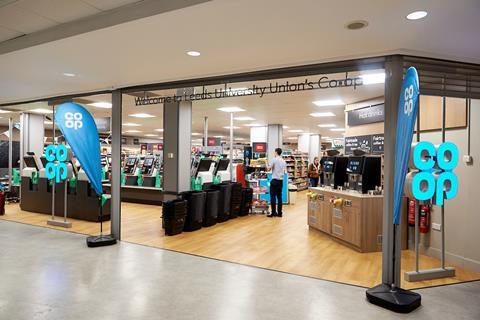 The Co-op believes it could grow its franchise model to 200 stores in time.

Speaking as the convenience retailer posted a 4.4% like-for-like sales increase in its food business for the year to 5 January, group CEO Steve Murrells said the aim was to have around 20 franchise stores open by the end of the year. On a macro level, he added, it was looking at around 200. He did not provide a timeframe for when it hoped to reach that number.

There are currently four Co-op franchise stores trading. Three are owned by Costcutter and the other opened on the campus of Leeds University earlier this year.

Press reports last year suggested that the Co-op had made a £15m offer to buy Costcutter from Bibby Line Group. It currently supplies the symbol group via Nisa, which it bought last year for £143m.

He did not confirm whether Co-op was still interested in buying Costcutter, saying it "was happy with the five-year supply deal that it has in place".
However, he did say he expected its wholesale business to grow over the next three years and that there were likely to be opportunities "for more alliances in the future".

Murrells also said that he still saw plenty of opportunity to open new Co-op stores and that it would continue to open 80-100 stores over the next few years. There were still 2,500 areas and communities in the UK that were not being serviced by a Co-op store, he added.

The Co-op posted a double-digit rise in annual sales and profits last year as strong food performance boosted growth.

Total revenue across the group rose 14% to £10.2bn, reflecting its acquisition of Nisa and a strong performance from its food business.

Like-for-like food revenue growth of 4.4% meant the Co-op has now enjoyed five consecutive years of like-for-like improvement.

During the year it invested £75m into opening more than 100 new food stores, refitting 138 existing stores and creating 1,600 new jobs.

The group has opened 417 new stores in the past four years and now has 2,582 Co-op Food stores.

Overall profitability "exceeded expectations", as pre-tax profits rose 27% year on year, reflecting the growth in revenues.
A total of £79m was returned to Co-op members and their communities in the year - £60m directly to members and £19m to over 4,000 community projects across the UK.

"The acquisition and integration of the Nisa wholesale business has been a game-changer in expanding our food footprint and we have also set out the path by which we can offer our members a broader range of compelling Co-op solutions in insurance and health," said Murrells.

"We continue to demonstrate that the Co-op is a good business that does good for society as we lead on issues including single-use plastics, funeral affordability and social housing. It is this determination to make a positive difference for all of our stakeholders which will ensure that we fulfil our ambition to build a stronger Co-op and stronger communities."

Chairman Allan Leighton added: "A year into launching our Stronger Co-op, Stronger Communities ambition and we continue to grow both sales and social impact. We have also made significant investments to further align our business with the needs of our members and deepen our understanding of the communities in which they live.

"In these uncertain economic times we have the opportunity to demonstrate that the Co-op way of doing business has never been more relevant than it is today. With the continued support of our colleagues, members and communities, I have no doubt that we will thrive in the years ahead. I am confident and excited about the path we are following and the greater social impact we can create for our members and their communities."