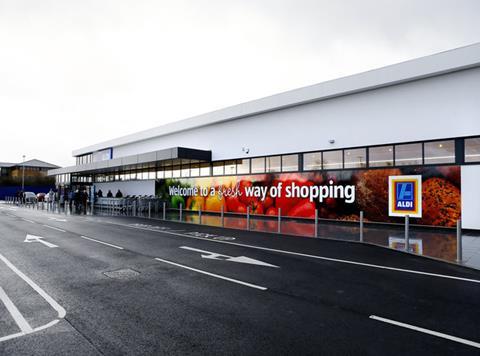 The rise of the discounters has meant out of town retail sites are increasingly likely to be anchored by an Aldi or Lidl store, a new report has shown.

Figures from Savills showed that there has been a 78% rise in the number of OOT schemes anchored by one of the German retailers or other discounters Iceland or Farmfoods, in the course of just six years, from 238 in 2011 to 423 sites in 2017.

The research also showed a rise in other discounter involvement, with B&M now present on 35 OOT schemes, compared with just nine in 2011. There is a Home Bargains store on 76 sites, up from 32.

Savills also claimed grocery discounters were potentially starting to favour development in smaller schemes, with 95 schemes of 0-20,000 sq ft now featuring a grocery discounter, up from 43 in 2011.

Meanwhile, the proportion of schemes of 100,000 sq ft-plus that include a grocery discounter has fallen from 21% in 2011 to 19% in 2017.

The trend has seen vacancy rates on OOT schemes with discount grocery anchors down to 8% from 12% in 2011, the report said.

Savills added that the UK shopper has changed their perception of discount grocery brands. M&S sat alongside only nine schemes that housed a grocery discounter in 2011, but by 2017 this had risen to 23 schemes, a growth of 33%.

"Strong shopper demand for discount grocery retail has seen landlords and developers welcome the sector at out of town retail parks in recent years, increasingly as anchor tenants. Our research shows other types of comparison discount retailers are often attracted to OOT schemes anchored by discount grocery brands," said Sam Arrowsmith, an associate in Savills retail research team.