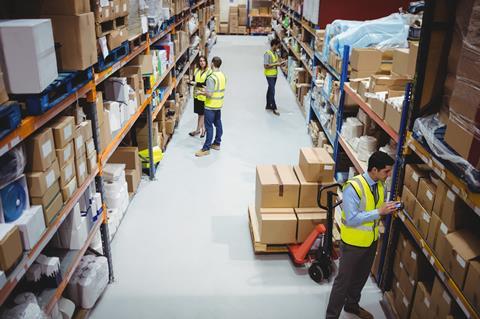 Nearly 100 million sq ft in additional warehouse space will be needed by 2024 to keep up with the growth of online retail, new analysis suggests.
Growth of online grocery alone could create demand for 7.1 million sq ft of warehouse space in four years, according to Knight Frank.
The real estate advisor examined five-year data for online sales and retailer warehouse space take-up to calculate that 1.36 million sq ft was needed for every £1bn.
Based on eMarketer forecasts of online accounting for 32% of all UK retail sales by 2024, up from the current 26.6%, an additional 92 million sq ft would be needed, according to the analysis.
The growth will put pressure on a limited supply of suitable warehouse space, a situation worsened by delays to construction during the pandemic, according to Knight Frank.
Across the UK, warehouse construction starts since April are down 58% year on year and planning consents down 21%, the company said.
"The rise of e-commerce has been one of the fundamental drivers of demand for warehouse space over the past five years, and our analysis shows this trend is only going to accelerate as consumer behaviour continues to shift in favour of online purchasing," said Charles Binks, Knight Frank department head logistics and industrial.
"The utilisation of technology in warehouses and any future need for social distancing will impact on space requirements, but it is clear the projected rise in online sales is going to create a huge demand for warehousing over the next four years. The question is whether supply can keep pace.
"Supply is already very constrained in and around London and major cities, with the availability of land a major challenge for developers."