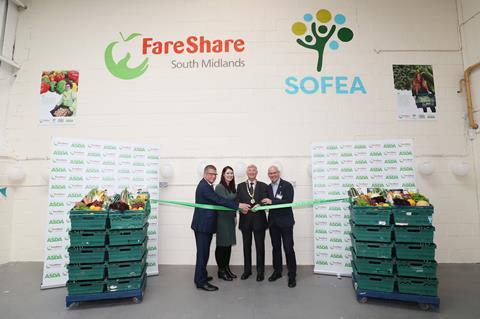 Food redistribution charity FareShare has opened its 25th warehouse.

The 6,500 sq ft facility, based in Bletchley, Milton Keynes, expects to provide an estimated 370,000 meals to people in need over the next year.

The site, which is being run in partnership with SOFEA - a charity which works with young people to develop their skills and employability - also aims to serve 49 charities and community groups and reach more than 5,200 people at risk of hunger over the next 12 months.

FareShare said the opening had been made possible following an undisclosed investment from Asda as part of its Fight Hunger Create Change programme - a partnership between the retailer, FareShare and the Trussell Trust, which aims to support one million people in poverty across the UK.

The retailer is ploughing over £20m over a three-year period to help both charities invest in infrastructure and offer more fresh food, support and advice to those that require it.

Richard Kennell, CEO of FareShare South Midlands, said SOFEA first launched in partnership with FareShare five years ago, with the opening of FareShare's Thames Valley branch.
"Our dual mission of fighting hunger and food waste, alongside supporting young people to achieve their potential, has proved a brilliant success in that region," he said. "In just five years, we have saved 1,000 tonnes of surplus food from waste whilst also supporting over 250 disadvantaged young people through our education programmes. At SOFEA, we believe everyone should have access to quality food and education - and we look forward to working with the community in Milton Keynes to make this vision a reality."
Lindsay Boswell, CEO of FareShare UK, said hundreds of thousands of tonnes of good food was wasted within the UK supply chain each year, yet 8.4 million people across the UK were struggling to afford to eat.

"FareShare works with the food industry and charities to tackle both these issues, and so we are incredibly grateful to Asda for their support in enabling us to open a brand new warehouse in Milton Keynes," she said.

"Their vital funding will be instrumental in ensuring good surplus food gets onto the plates of people who need it across Buckinghamshire."

Stephi Brett-Lee, senior director community and corporate affairs at Asda, added: "Our Asda Fight Hunger Create Change programme aims to make a real difference in this local community, as well as on a larger scale as we continue to help people out of poverty and create long-term positive change in the UK by tackling the root causes of poverty and ensuring nobody goes hungry."