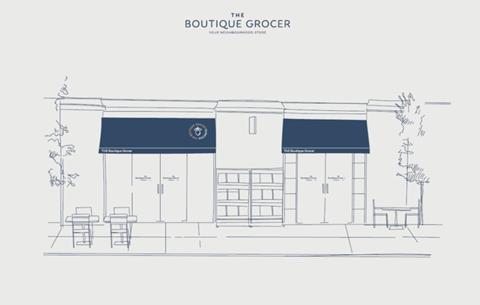 A new upmarket convenience store is to open in Islington Square, North London in December.
The Boutique Grocer is designed to be a local destination store, with a focus on health and wellness.
It will mainly recruit locals, offer free community events such as workshops on nutrition, and will have three concession counters to showcase international cuisine from local people, as well as a café and bar. The Boutique Grocer is also considering adding an Italian food counter with fresh pasta and stonebaked pizza, as well as Asian street food, South American cuisine or Caribbean dishes.
The 4,700 sq ft high-end grocer will also have a flexible layout so its founders, brother-and-sister duo Caroline and Nic Scallan, can test different consumer trends. The Scallan family has a 200-year history in food retail.
The store was also inspired by Caroline's own health issues, which restrict her to a ketogenic diet. Although its full range of grocery lines has yet to be confirmed, it will feature items suitable for customers with a range of diets and preferences, such as vegan and coeliac.
Products will also come at a range of price points, as The Boutique Grocer is looking to attract shoppers with various budgets and be "highly accessible".
The store is on track for its end-of-year opening, despite supply of materials slowing due the coronavirus pandemic.
"This is our first foray into the high-end convenience market, and we're very excited about the brand concept and creating a local destination store," said Caroline Scallan.
"Our view is that there's never been a more important time to think about health and wellbeing. Food is something that everyone has to buy – it's a necessary overhead, but we're focusing on community as well. That's about strong connections with customers and providing great service. If we're really going to be a local grocer, we have to be involved in the local community; it's more meaningful than just being a faceless shop where people come to buy food they need and leave, and giving something back is even more important now considering everything that's come with the pandemic this year."
The Boutique Grocer is also looking to open at least two further locations in London in the future.