Tesco still has a string of 'unlawful' restrictive land agreements, 10 years after they were banned. But other supermarkets have them too. So is it such a crime?
Restrictive land agreements are a headache that apparently won't go away for Tesco. In 2014, four years after they were in effect outlawed as anti-competitive, an investigation by The Guardian revealed one it still had, in Diss, Norfolk.

Then in 2016, the supermarket was sued by a property developer over another in Whaley Bridge, Derbyshire, in a dispute that was ultimately settled out of court.

And last month, it was revealed that it had still more, by a now clearly impatient Competition & Markets Authority. It was "unacceptable" that Tesco still had 23 of "these unlawful restrictions in place" said CMA executive director Andrea Gomes da Silva, in a statement that also demanded new powers to impose fines.

Tesco pointed out it represented 0.4% of its 5,354 land deals. It blamed "administrative errors" (closely echoing its explanation to The Guardian in 2014) and agreed to take remedial action in all the cases.

But the CMA's gloves were off. On the same day, it wrote to the other supermarkets prohibited from having the agreements under a 2010 competition order: Sainsbury's, Asda, Morrisons, Waitrose, M&S and the Co-op. Each has been instructed to demonstrate that they have none, under the threat of enforcement if they fail to comply.

At issue are clauses in land agreements restricting other retailers, usually of food, from opening within a given area of the retailers' stores. The CMA finds them unacceptable because they can also limit the choice available to consumers.

They can apply to land adjacent to stores owned by a supermarket, bought from a developer subject to a restrictive covenant. Binding for the developer and any future owner of the adjoining land, it prevents another supermarket from opening on the same retail park. And they can apply to stores leased on condition that the landlord applies an exclusivity restriction to neighbouring units.
"Supermarkets are sophisticated enough to know that anti-competitive restrictions aren't allowed any more"
While the tone of the CMA's announcement may have been one of outrage, few in retail property seem at all shocked that some should still exist.

"It will come as no surprise to anyone who has observed the food retail market over the years, as restrictive covenants have been a known feature of supermarket strategies for decades," says Richard Curry, partner in retail and leisure at agents Rapleys.

As The Grocer revealed two weeks ago, there is also an apparent consensus among retail agents that the CMA's renewed scrutiny will reveal the other supermarkets to have retained at least a similar number to Tesco.

Why that should be so is a question on which there is less agreement.

"It's not a dark secret that they're there," says Tom Edson, head of retail capital markets at Colliers. "They just won't physically have the time or resources to analyse every single store."

Amid vast estates, chock-full of decades-old land deals, Edson argues that they only become the focus of the retailer's attention when raised by a would-be neighbour. When that happens, there is a good chance that, in any event, the retailer will rescind the restriction. "I know of examples where Tesco have had restrictive covenants and someone who owns nearby land has phoned me and said, what's your experience of this? [And I've said] just pick up the phone, write to them, tell them, see what happens. And they've just dropped it."

Richard Petyt, retail partner at Knight Frank, agrees on both points. For the supermarkets, flushing all the offending clauses out of their estates will not have been made easier by the fact their "record-keeping isn't that fantastic". And they are likely to willingly release offending agreements when they are highlighted because they are "sophisticated enough to know that anti-competitive restrictions aren't allowed any more".

However, this argument gets short shrift from the CMA. The authority expects large retailers to have systems in place to achieve full compliance. Their existence alone could be enough to deter another retailer from pursuing a location, it says.
Why not Aldi and Lidl?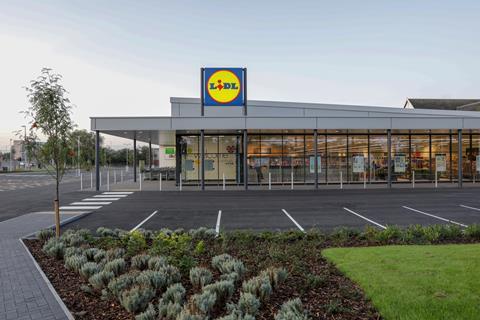 The CMA is pursuing supermarkets over restrictive land agreements using powers created by its predecessor, the Competition Commission.
They were set out in the Groceries Market Investigation (Controlled Land) Order 2010. While Lidl and Aldi's were already sizeable by 2010, they were less so in 2006, when the two-year grocery market investigation which led to that order was launched.
As such, Lidl and Aldi were not included in the investigation, while Tesco, Sainsbury's, Asda, Morrisons, Waitrose, M&S and the Co-op were. These seven, along with any companies that are "agents of" of "controlled by" them, are the only ones designated as "large grocery retailers" in the order.
The order effectively created a law applicable only to them, according to the CMA. The authority argues that it cannot unilaterally broaden its scope to include anyone else without carrying out a further market investigation, a major project which it is not currently planning to undertake. The limitation applies to both the ban on the restrictive clauses since 2010 and the remedies for dealing with historic ones.
Edson argues that, apart from being "nowhere near" the others' square footage at the time of the investigation, Lidl and Aldi are less inclined to use such restrictions.
"These restrictions as a whole have come up when the supermarkets are part of a wider retail park or a piece of neighbouring land which a developer has also been involved with," he says. "[Whereas] when Lidl or Aldi are developing a new, stand-alone, 30,000 sq ft supermarket, they're generally buying it themselves or it's a deal with one developer with that interest only."
Nevertheless, the discounters could employ the restrictions without coming within scope of the CMA's current approach to enforcement.
Other retailers are not only able to use the restrictions but frequently do so, according to Savills director of out of town retail Johnny Rowland. "Boots have many restrictions against other chemists and pharmaceutical retailers coming onto sites they are on," he says.
"Superdrug would get on to masses of the same parks as Boots if they could."
More critical view
Neither is there a shortage of property industry experts who take a more critical view of any breaches. Curry believes arguments that supermarkets cannot keep track of the clauses should also note that "after all, they're protecting their own trade". And he is unconvinced they would be willingly rescinded "if it wasn't for the CMA throwing it out into the open".

Rowland has recent experience of the potential complications presented by the clauses to one his clients: Lidl.

"We're trying to take some space on a terrace next to a Tesco," he says. "There is more than likely going to be a food restriction in favour of Tesco across this current non-food terrace. Lidl's view is they don't want to risk an enforcement action by Tesco, because they're not prepared to risk £Xm of shop fit to be told it's legally binding and they suddenly can't trade.

"But they are also now confident enough in the legislation that those agreements are no longer legal," he adds. "And that provided the landlord accepts they are no longer legal, and challenges Tesco to confirm it, Tesco wouldn't have a leg to stand on."

The discounter's confidence stems from a similar recent case, in which with "benefit of legal input", Lidl successfully challenged a restriction at another site, according to Rowland. But it hasn't always ended so. Rowland says he also knows of a case, post-2010, in which a challenger paid one of the big four to release a restriction. The sum was proportionate to revenue likely to be lost as a result of the new food store's arrival.

Clarity for challengers will not be enhanced by exceptions to the 2010 ban. They include short-term exclusivity restrictions lasting up to five years, which are allowed. Given the amount of capital invested, "I can see why they'd be permitted to do that and I don't think it's unreasonable really," argues Curry.

But perhaps the less understood complexity is that the 2010 order, drawn up by the Competition Commission, a predecessor to the CMA, only banned the supermarkets from agreeing new restrictions from then on. The thinking was that, having identified the problem during the two-year grocery market investigation that led to the order, and dealt with by pre-existing clauses along the way, it didn't want the problem to re-establish itself.

The Grocery Market Investigation (Controlled Land) Order included a mechanism for examining pre-2010 agreements. It sets out a test the CMA can apply in deciding whether or not one should be allowed. That test also contains exceptions. If there are already three or more rival food stores over 3,000 sq ft within a 10-minute drive, then consumer choice is not at risk, and a restriction is permissible.
"Many cases will just carry on in perpetuity. Unless there was a time limit in the first place they will still exist"
This is done on a case-by-case basis, and three or four pre-2010 agreements are raised with the watchdog each year. It is when one comes along that is both anti-competitive under the order and post-2010, that the CMA's question becomes: why are we seeing this at all?

That's what happened in 2018, when a single post-2010 Tesco restrictive clause was brought to the CMA's attention. It was the event that prompted the CMA to ask Tesco to go through the rest of its estate, leading to the recent revelation of another 22, and as a consequence of those, to write to the other supermarkets.

While the CMA has not disclosed details of that single 2018 case, Rowland takes the view that it "almost definitely" would have been raised by Lidl or Aldi, since it is the discounters that have frequently had to grapple with the clauses as their estates grow.

All of Tesco's 23 offending clauses were post-2010, agreed between then and 2015, according to the CMA. The action the authority has taken now, in writing to the others, also obliges them only to show they have no offending restrictions agreed since 2010.

It suggests the three or four historic ones the CMA examines each year could continue at an undiminished rate - or even grow in frequency, according to Rowland. Although many were addressed during the markets investigation, those that were not will "just carry on in perpetuity. Unless there was a time limit in the first place they will still exist."

The collapse of one or more key retailers with stores near the supermarkets could lead to a glut of vacancies of units to which the historic restrictions apply.

"Say B&Q went pop. You'd have 200 sites, and I suspect 10 or 20 have food restrictions," says Rowland. "A couple of years ago, I was getting rid of some rump-end leases for B&Q and there were occasions where we came across food restrictive covenants and had to negotiate with landlords." The same could be true of Homebases, formerly owned by Sainsbury's, he adds.

Whatever is exposed by the CMA's current scrutiny, it won't be the last we'll hear of restrictive land deals.
The offending Tesco deals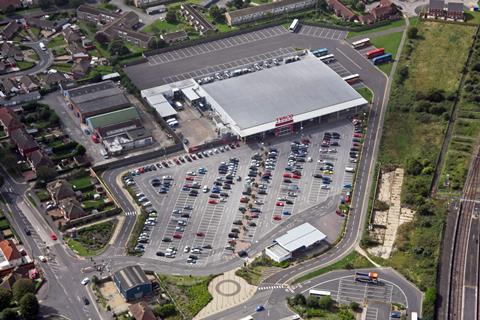 Of the 23 offending Tesco agreements identified by the CMA, three were restrictive covenants that could prevent other tenants from opening competing stores nearby, breaching article five of the order. The restriction can apply to a piece of land where there is no longer a Tesco. The other 20, all of which related to Tesco Express stores, were agreements that allow the supermarket exclusive rights to sell groceries in certain areas for longer than five years, breaching article eight. All 23 were agreed from 2010 to 2015, according to the CMA.
The three restrictive covenants:
Croft Retail Park, Bromborough. Tesco Homeplus closed in 2015.
Victoria Street, Hednesford. A superstore that opened in 2012 as the first retailer in Victoria Shopping Centre, part of an 18-month, £56m project to transform the town centre.
West Durrington Centre, Worthing. The 140,000 sq ft, 24-hour Tesco Extra opened in 2010, replacing an existing adjacent branch.
The 20 exclusive rights for longer than the permitted five years, all Tesco Express stores:
| | | | |
| --- | --- | --- | --- |
| Saxmundham Road, Aldeburgh. Opened in 2013 | Chester Road, Northwich | Askew Road, Shepherd's Bush, London | High Street, Penge, London |
| Horton Retail Centre, Epsom | Wolseley Road, Plymouth. Closed since 2016 following a fire | College Road, Harrow, London | Ladbroke Grove, London |
| Stainland Road, Halifax | Oxford Road, Reading | Fore Street, Edmonton, London | Mile End Road, London |
| Pencoed, Mid-Glamorgan | Goodmayes Road, Rowallan | Great Suffolk Street, London. Opened in 2011 | New Cavendish Street, London |
| Wellingborough Road, Northampton | Brentwood Road, Romford | High Road, Kilburn, London | Rushey Green, London |

Steve is deputy news editor at The Grocer.

He's responsible for covering the discounters and retail property, and for commissioning and editing The Grocer's analysis features. He has over 20 years' experience as a journalist, during which his by line has appeared regularly in a range of national newspapers.

Follow Steve on Twitter: @Steve_Farrell_
View full Profile