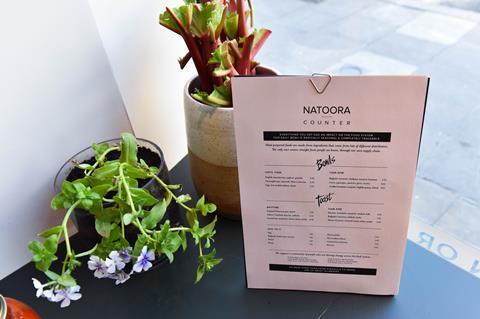 Natoora has shaken up its grocery store offer with a fifth outlet that also doubles up as a café.

The fruit and veg specialist hailed the new 550 sq ft site, named Natoora Counter, in Notting Hill's Elgin Crescent as "seasonal and entirely traceable".

The business, which also operates stores in Chiswick, Fulham Road, Portobello and Sloane Square, said it was on first-name terms with the producers and growers that supplied every ingredient on its breakfast and lunch menus.

The format encouraged consumers to know where their food is coming from and to understand the impact they can have on the way food is being farmed and supplied, it said.

Each dish is made to order to reduce food waste, all takeaway packaging is entirely compostable and the seasonal fruit and vegetables are displayed loose instead of in prepacked punnets.

"All the work we've done to our supply chain doesn't stop at a restaurant door," said Natoora CEO Franco Fubini. "Nobody else has dared to address the food system at this level, tackling so many facets simultaneously with such clarity of vision. We are determined to create a better future of food and this involves everyone, the consumer as well as the farmer. With Natoora Counter we are creating demand for flavour, seasonality and traceability and then putting everything back to the right people on the right farms, so that the system will correct itself."

Natoora also supplies Ocado, has own-branded produce bays in six Waitrose stores in the Capital, a concession in Selfridges, presence in London branches of Whole Foods and a wholesale business supplying the catering trade.