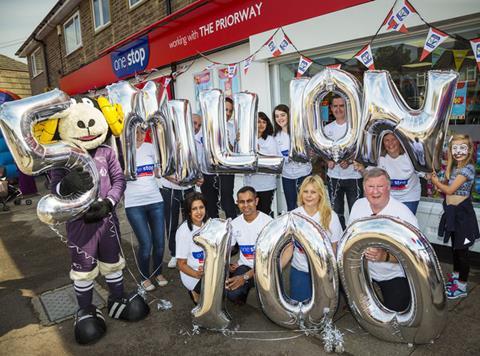 One Stop has officially opened its 100th franchise store.
After piloting the symbol group in March 2013, One Stop hit triple figures and has now reached £5m in investments to the independent sector.
One Stop's 100th franchisee is The Prior Way in Derby, a 1800 sq ft convenience store owned by Vip and Jo Measuria. After a full re-fit the store now features CollectPlus, PayPoint, National Lottery and is conveniently located next door to a chip shop which is also owned by the couple.
"We're really excited to have the distinction of being One Stop Franchise's 100th store," said store owner Vip Measuria.
"We've been trading with One Stop since late June, so our sales have already increased thanks to the new ranges and deals being phased in. Now that we've undergone the full refit, we can really drive things forward. Our customers will be delighted with the improvements to our alcohol, chilled and fresh ranges in particular."
To celebrate the milestone, One Stop hosted a launch party at The Prior Way in aid of the Derby County Community Trust. Face painting, goody bags, football and a bouncy castle featured on the launch day with the Mayor of Derby, Paul Pegg and official mascot Rammie present to cut the ribbon.
"We're delighted to mark such an important milestone with a fantastic launch, whilst raising lots of money for a great local cause at the same time," said One Stop franchise director Andrew King.
"It's amazing to think that we've invested £5 million into the independent sector over the last two years – and that's just the refit investment alone; it doesn't take account of the expertise we share and the ongoing relationships we build with our franchisees to help them grow their businesses."
The new store will also work closely with the local retirement home to provide grocery deliveries and install new One Stop food and clothing bank bins to aid the local community.
"Our momentum is really building, with huge interest from symbol retailers in particular. They can see the passion we have for retailing and how we're delivering tangible results for our franchisees." said King.