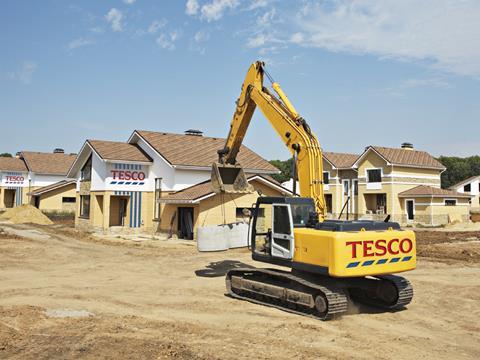 The value of property owned by the major supermarkets has fallen by 17% in just two years due to the boom in online retail and a sell-off of surplus space, a new report has shown.

Research by Saving Stream showed the property empire of Tesco, Sainsbury's, Morrisons and Asda amounted to £37.8bn in 2016, down from a peak of £44.3bn just two years earlier.

It said many of the properties that had been shed were 'out-of-town brownfield sites which could now be redeveloped for housing'.

In 2015, Tesco sold off 14 unwanted sites for potential residential conversion into 10,000 homes to a property investment firm. The £250m deal was part of its plans to offload almost 50 redundant sites.

"UK supermarkets are increasingly looking at reversing a long-term strategy of land-banking," said Liam Brooke, co-Founder of Lendy, which runs the Saving Stream platform. "Opportunistic purchases of sites for potential future stores were intended to provide a strategic advantage, build market presence and lock out competitors from certain areas.

"Developers could be major beneficiaries as supermarkets start to scale back their property portfolios, with smaller sites just as likely as larger development opportunities to be offloaded. There is an acute need for new housing in many parts of the UK and smaller developers can play a vital role in helping to meet that demand."

However, a recent major report by leading property company Colliers found the supermarket property sector was picking up.

The report last month found despite the shockwaves from the EU referendum and the US election, around £1.1bn of supermarket assets were traded in 2016 - a similar level to the previous year.

Tesco become a net buyer of stores as it continued to exercise buy-back options to mitigate its exposure to property costs. The report estimated that the retailer spent about £450m on store acquisitions in the previous 18 months.