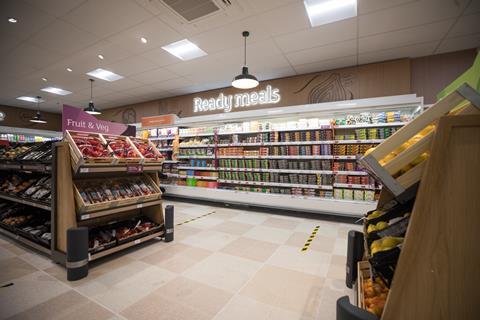 Sainsbury's has opened two of its new neighbourhood hub convenience stores this week.
The 9,113 sq ft Bishop's Waltham store in Hampshire and the 12,168 sq ft store in Midhurst, West Sussex represent the first rollout of the format since it opened a pilot version in Woodhall Spa, Lincolnshire last year.
Sainsbury's said last week that it planned to open 18 of the hub stores over the next three years.
The concept is designed to be a one-stop shop for local customers who can do a weekly grocery shop and access extra services without having to travel long distances to a supermarket.
As part of a more extended grocery range than in a traditional convenience store, the hubs offer more meat-free and plant-based ranges, gifting, petcare and more household products, as well as cosmetics and beauty lines.
They feature Argos and Tu clothing collection points, coffee to-go and fresh juicers.
The retailer said the stores had been designed to cater to the shift towards longer shopping missions seen throughout the coronavirus pandemic.
"These new stores reflect our strategy to put food first and commitment to our customers to provide them with convenient access to delicious and great-value food," said Patrick Dunne, director of property at Sainsbury's.
"We've been overwhelmed with local support since announcing our plans to open these stores. We know the demand is there and we're confident these stores will thrive.
"We've undertaken an extensive refurbishment to get them ready and know they will provide residents with a safe, fresh and convenient shopping destination. We take great pride in building and fitting out stores to suit the local community and these stores are an example of how we flex our estate to ensure we deliver for our customers. We look forward to rolling out more of these exciting new-style stores and bringing convenience to local neighbourhoods across the country."
Graham Biggart, director of commercial operations at Sainsbury's, added: "Our neighbourhood hub stores have the community at heart and offer our customers the opportunity to complete their shopping closer to home.
"We have set up these stores to offer the most relevant products and services our customers need to fulfil their daily needs. At Sainsbury's we're constantly striving to make the experience for our customers as convenient as possible and we're confident we have curated the ideal solution for these communities. We know how important it is, now more than ever, to have access to everything you need close to home."