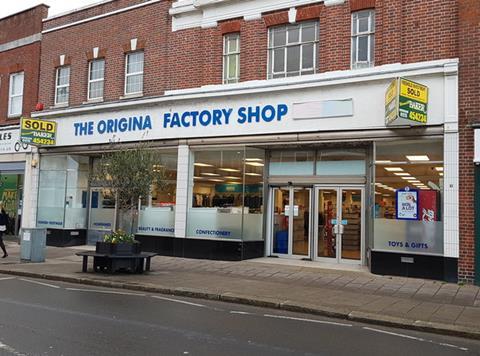 The Original Factory Shop has closed around 20 more stores in addition to the 32 to shut under the terms of a company voluntary arrangement.

The CVA, agreed in July last year, was intended turn around the business and pave the way for TOFS's "new journey to growth strategy", a spokeswoman said at the time.

But more closures have followed because of a clause in the CVA enabling landlords of other branches to serve notice on the properties, it has been revealed.

The discounter chain, which sells fmcg including snacks, tea, coffee and toiletries as well as clothes and homewares, was set to have 192 branches after the 32 closures announced last year. The estate now stands at about 170.
A branch in Normanton, Wakefield, was due to shut this week.

The Shoreham branch in West Sussex held a closing-down sale in December after the landlord served notice, only to win a last-minute reprieve with the renewal of the lease last week. An email in November notified the branch's customers: 'Unfortunately your Shoreham store is closing', with a 25%-off sale. Staff were in a consultation process facing redundancy.

"We are delighted to confirm that our [Shoreham] store will be remaining open," a spokeswoman said. "We didn't want it to close, so we are thrilled to be in a position to remain in occupancy at the heart of the local community."

She said the CVA set a deadline for landlords wishing to serve notice but she did not specify the time frame.

Founded in 1969, TOFS bills itself as "the UK's original off-price retailer", offering a "local shopping experience" typically in smaller towns. It "provides its customers with quality brands at discounted prices, across a range of categories including fashion, beauty, and homewares".