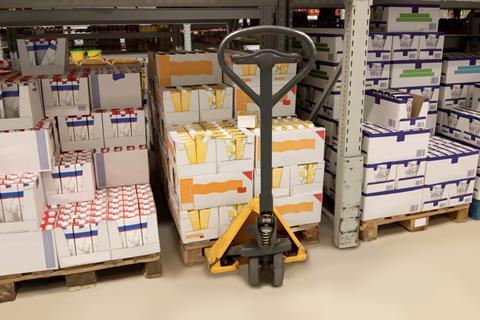 Retailers face a "race for space" in warehouses this year, along with soaring rents, as demand outstrips supply, according to Colliers.
The shift to online shopping led to record take-up of warehouse space in 2021, according to the property consultancy, which tracks supply and demand for industrial units over 100,000 sq ft.
In total, 50 million sq ft was taken in the units, 3.6% more than the year before.
The soaring demand has also pushed supply to a record low, with Colliers forecasting only another 18 million sq ft to become available this year.
It meant companies would "struggle to find space and it's all about survival of the fittest and who will be able to expand operations in this challenging business environment", said Andrea Ferranti, Colliers head of industrial and logistics research.
Demand is expected to remain high, with latest ONS figures putting online's share of retail sales at 30.1%, up from 21.6% in November 2019.
Investors and developers are responding, with 11.1 million sq ft speculatively built in 2021, but 75% of that was already let or under offer, Colliers said.
As a result, landlords would be in a strong position to push up rents throughout 2022, said Len Rosso, Colliers head of industrial and logistics.
"Rents will certainly rise, pushed by a landlord-favourable supply/demand imbalance, increasing land values and inflationary pressures on construction costs," said Rosso.
"As a result, developers and funds will be reluctant to agree a set rent in advance for pre-lets on purpose-built projects and speculative schemes.
"While we are tracking circa 18 million sq ft of speculative supply advertised for completion by the end of this year, the sector really needs this extra space to function properly and given the strength of the demand, we believe that the market will not be oversupplied in 2022."