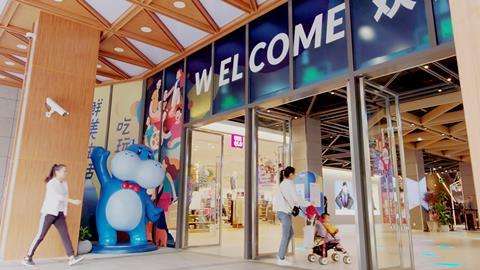 In China, online and offline grocery increasingly live under the same roof. Walk into a Freshippo supermarket, for instance, and yes, there'll be most things you'd expect. Rows of fruit & veg, fresh meat and fish counters, stacks of loo roll, and staff members walking around in branded polo shirts.
But there will also be QR codes that can tell you exactly which farm that chicken breast came from. Robotic waiters serving dishes in the on-site café. Oh, and a conveyor belt churning around on the ceiling above you, as staff pack up online orders into baskets, hook them to the belt, and watch them swing off to a warehouse area where delivery drivers grab the baskets and deliver to customers inside 30 minutes.
It's a dual use of physical space that has allowed retailers, including Alibaba and JD, to roll out a physical retail presence, while also offering ultra-fast delivery of groceries.
So, as competition for single-use warehouse space in cities heats up, might we see UK retailers take a similar approach? Well, grocers here are already accustomed to diversifying stores to make use of excess space. Third-party pharmacies, cobblers, and quick-service restaurants have all set up shops inside their shops, after all. So why not fulfilment?
"Most large supermarkets have space that can be re-configured to incorporate micro-fulfilment centres for this very purpose," says James Smith, MD for the UK and Ireland at AutoStore.
"By implementing MFCs [micro-fufilment centres] in existing retail spaces, consumers will have the opportunity to collect their orders with greater convenience. The retailer then has improved performance and efficiency, for either click & collect or van delivery orders."
Plus, with the correct application of technology, larger out-of-town retail space can be redefined as a hybrid model of shopping space and warehousing that supplies the urban fulfilment centres and ensure the right products are available at the right time, he adds.
It might be a long shot to think we'll see China's ultra-high tech supermarkets arrive here any time soon. But robotic waiters and interactive barcodes aside, the concept of a part-retail, part-logistics store is already here (see Tesco's UFCs). And it could be a sensible solution as the demand for speedy delivery and urban property hots up.
How rapid delivery has led a space race in the UK's cities
1

2

Currently reading

Will grocers become high-tech fulfilment centres?