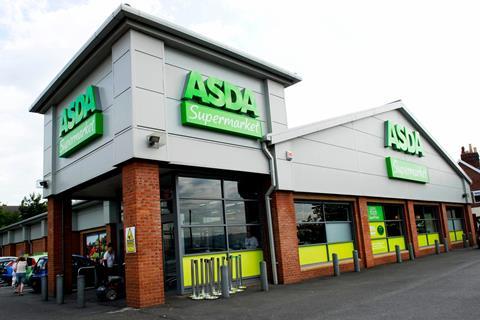 Asda has told suppliers it plans to cut SKUs by up to 40% as a major range review rolls out ahead of the arrival of the Issa brothers.
Stores will move to a new model that is more akin to the discounters, reducing ranges to prioritise availability of key SKUs, alongside innovation in growth areas such as vegan and organic, Asda has promised.
The category transformation programme, dubbed End2End, will also see space handed over to a major rollout of in-store concessions, including partnerships with B&Q, Decathlon and a raft of food-to-go providers in an 'all under one roof' strategy.
In September Asda announced a partnership with B&Q, in a new 'store within a store' concept whilst it has extended a concessions deal with Claire's, launched in 2019, to 15 stores. It has also announced partnerships with food to go companies including Greggs, Sushi Daily and Panku, with others believed to be in the pipeline, pending the arrival of the Issas, who have stronger expertise in franchising and concessions.
However, plans to reduce Asda's range preceded the announcement of Issa brothers Mohsin and Zuber Issa's TDR Capital-backed £6.8bn takeover, which faces final clearance by the Competition & Markets Authority next week.
Asda axed over 3,000 lines last year [Assosia 52 w/e 7 December 2020], telling suppliers last October it planned to shift to a new discount model. It has now revealed that 21 categories will be reset at even lower levels before the end of the year – starting with desserts, bakery and soft drinks, with wine, bakery, spirits and frozen to follow.
"We've been really clear with suppliers," said chief merchandising officer Derek Lawlor. "In coming weeks more and more categories will go through that change.
"We want to make our fixtures simpler and easier to shop, to drive volume and become a more efficient organisation, which allows us to lower prices. We are looking at each category in isolation and also being very specific by store."
But Ged Futter, founder of the consultants The Retail Mind, questioned the logic. "If you take 40% of choice out it doesn't necessarily mean volumes increase for the rest," said Futter.
"In trying to turn a huge food store into a discount store, the danger is they forget they are specialists in food retail, which brought people there in the first place."
The reset talks come amid major structural changes in Asda stores. This week The Grocer revealed that 1,200 bakery jobs were at risk after Asda followed Tesco in ditching its in-store baking facilities. In February Asda also began a consultation over 5,000 jobs as it re-geared towards online grocery.