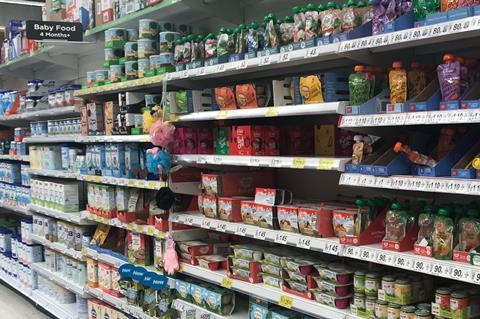 Asda has overhauled its in-store babyfood offer, stripping out dozens of SKUs and organising the remaining products by feeding stage.
The shakeup was aimed at creating greater clarity and making the segment easier to shop, an Asda spokeswoman said. "It can be quite overwhelming for a customer who hasn't shopped babyfood before, so [now] you move down bay by bay as your child gets older to help make it easier to shop the aisle."
As part of the change, which has not seen a reduction in shelving space, Asda has delisted around 70 SKUs since the beginning of this year, with Piccolo and Kiddylicious being the hardest-hit brands.
The supermarket has dropped more than half of Piccolo's lines. The organic brand is down to nine pouch meals from 19, after the likes of Banana, Strawberry & Peach (100g), Lamb Ratatouille (130g) and Powerful Purples (4x90g) were delisted by Asda [Edge by Ascential w/e 15 May 2019].
Piccolo had collaborated with the grocer "to review how we can continually improve the Piccolo range" in stores, said the brand's head of UK sales, James Gilks.
"During this work, we identified opportunities to optimise our range and put a core Piccolo range into more stores."
Kiddylicious, meanwhile, has lost 15 lines in Asda – most of them from its Little Bistro range, which is down to just one variant, Oaty Porridge with Red Berries (215g).
However, the brand recently won Asda listings for seven finger food options.