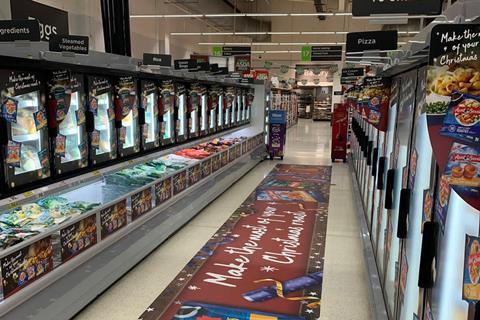 Nomad has partnered with Asda to give the frozen aisles a festive makeover at 10 stores across England.
Launched on 26 Nov-ember and running for six weeks, the in-store takeover calls on shoppers to 'Make the most of your Christmas roast' with the Birds Eye and Aunt Bessie's brands.
Participating stores include three sites in Birmingham as well as Asda branches in Swindon and Newcastle-upon-Tyne.
The aisles have been emblazoned with vinyl floor stickers, cabinet borders and header boards featuring Birds Eye and Aunt Bessie's branding and meal inspirations, as well as aisle fins pointing consumers to the location of products from both brands.
Nomad said the push would tap into an anticipated surge in demand for frozen as the UK heads towards a Christmas impacted by Covid-19 rules and recessionary consumer behaviour.
"More shoppers are seeing the freezer – and our brands – as a credible option for quality meals that deliver strong nutritional benefits and value for money," said Birds Eye marketing director Sarah Koppens.
"With consumers heading into stores to get the individual components for their Christmas dinner, we're proud of this eye-catching collaboration with Asda. Activity like this is the perfect way to not only grab shoppers' attention but also highlight what the category has to offer."
A third of the shoppers who only bought into the category over the festive period had purchased Aunt Bessie's products last Christmas, Koppens added, quoting Kantar and Nielsen.
It follows a similar push in the frozen aisle of a Sainsbury's store in Epsom last October as part of Birds Eye's 'Eat in Full Colour' campaign.
The takeover comes amid an earlier than usual Christmas sales surge at Asda, with the retailer reporting online sales volumes for many Christmas staples were well up against 2019 levels. It said sales of frozen turkey crowns had soared 230% year on year thus far.
It also forms the latest instalment of Asda's brand partnership programme, which has seen the retailer launch a 'store within a store' concept with toy retailer The Entertainer and plan another with DIY store B&Q.