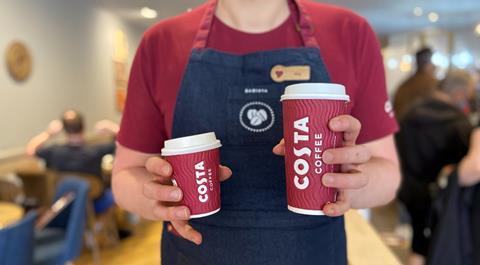 Costa Coffee is adapting its offer with a greater emphasis on value as the economic impact of the Covid crisis continues to bite.
The coffee chain has introduced a new Mini cup size priced at £1.66 for an eight-ounce serving. This will sit below its Small (12oz) – £2.20, medium (16oz) – £2.50 and Large (20oz) - £2.80.
Costa has reduced the price of its lunchtime meal deal of a small coffee or cold drink and a savoury item from £4.95 to £4,
It is also launching a new premium meal deal this week that will include a drink and new menu items such as a hoisin duck wrap or creamy mushroom risotto.
Costa's breakfast offering will also now allow customers to buy a plain croissant, toast or a cheese twist for £1 when ordering a coffee, or a bacon bap or new sausage roll for £2.
"At Costa we are on a mission to make our premium handcrafted coffee more accessible to all by continuing to launch incredible offers in-store," said commercial marketing director Eric Tavoukdjian. "Our new Mini cup is the perfect choice for coffee lovers eager to enjoy the great taste of Costa at a new smaller price point. More than ever, we know choice and value are important to our customers and we're thrilled to launch the Mini and refreshed meal deals to ensure there's something for everyone on the menu this season."