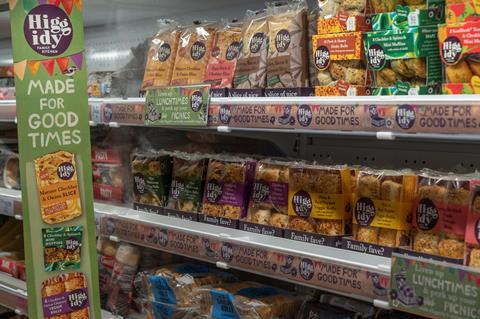 Higgidy is to launch branded fixtures in Sainsbury's.
The upmarket savoury pastries brand has partnered with the retailer to create a new 'lunch picnic' themed fixture, offering a range of its snacks including rolls, pies, quiches and its recently launched slices.
The fixtures will roll into 277 Sainsbury's stores, varying in size according to store format, promoting the tagline 'Made For Good Times' with branded aisle fins and shelf strips, and barkers.
The brand said it wanted to "capitalise on the growing demand for convenience and taste at home and on-the-go meal solutions, that had formed during lockdown, and is likely to continue to grow once the restrictions have been lifted".
Higgidy founder Camilla Stephens said she wanted to bring "a real sense of joy" to the category with the partnership. "We had been having conversations with Sainsbury's about how they have seen a change in buying behaviour at lunchtimes.
"We were keen to remind consumers when they are in the supermarket that here we are, here is the lunchtime offer and make it as easy for them as possible."
The move meant Higgidy would be able to "showcase the breadth of our offer – mini muffins, no-pork pies, slices, little quiches – lots of choice so the consumer can dip in and out", she added.
Sainsbury's buyer Richard Welch added the initiative "not only ensures we are continuing to put food first for our customers, but also offers Sainsbury's shoppers premium meal and snacking options, for either at home or on-the-go".
It's the latest in a series of big range changes from Sainsbury's: it earlier this month completely revamped its meal deal offer with hopes of challenging high street chains.