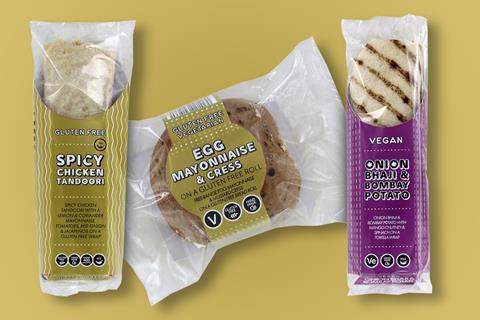 Spar wholesaler James Hall has launched eight new sandwich flavours in line with Veganuary.
It features two vegan, three vegetarian, and three gluten-free options.
The vegan selection consists of an onion bhaji and bombay potato wrap, as well as a vegan cheese salad wrap.
The vegetarian options include a falafel and red pepper houmous wrap, a spicy dahl wrap with sweet mango chutney, and a BBQ jackfruit and coleslaw wrap.
And for those following a gluten-free diet, egg mayonnaise and mustard cress on a gluten-free roll will be available, as well as tuna & sweetcorn in a gluten-free roll, and chicken tandoori in a gluten-free wrap.
"Complementing our current sandwich and wraps range, these new delicious flavours will offer customers the very latest in on-trend lunchtime options," said James Hall sales and marketing director Peter Dodding.
"James Hall launched its first vegan and vegetarian range in February 2019, and after a fantastic response from Spar customers, later extended the range to include vegan and vegetarian salads.
"The ranges have proved so popular that our new product development team have been focusing on developing the range further and are delighted to introduce eight new flavours for 2021.
"Many customers are looking for lighter, meat-free options that are full of flavour and we think they will be delighted with the new range of fusion food-to-go options."