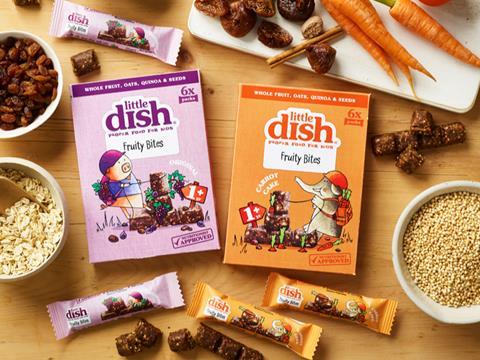 Little Dish's ambient products are set to vanish from the major mults after the brand delisted them to focus on its core range of chilled food for toddlers.
It currently has just four choices of finger food – two variants each of Chickpea Pop Pops and Fruity Bites – available across Sainsbury's, Morrisons and Waitrose [Edge by Ascential 18 April 2019], having chosen to axe a raft of snacks, ambient meals and cooking sauces. They began to vanish in earnest from supermarket shelves in the autumn, with the last few in Tesco and Asda disappearing in early March.
"Last year, we made the strategic decision to focus on fresh and discontinued these lines," said a spokeswoman for the brand. She declined to offer further details.
The news comes just short of two years since Little Dish made its debut in ambient meals in May 2017 with Baked Beans, Spaghetti Hoops, Macaroni Cheese and Tomato Soup. They were joined by a lineup of cooking sauces, and came three months after the brand added its Chickpea Pop Pops bagged snack in four flavours. Fruity Bites launched in February 2018.
Last spring saw Little Dish suffer heavy delistings for its fresh meals in Sainsbury's, which pulled 12 SKUs in May to make room in chillers for its own-label Little Ones range. By October, Little Dish found itself down to just two SKUs across all Sainsbury's segments after a selection of ambient lines disappeared from shelves.
The brand pioneered chilled meals for toddlers upon its launch in 2006, securing listings in Tesco, Sainsbury's, Asda, Waitrose, Morrisons, Ocado, Co-op, Booths, Boots and Nisa. In the summer of 2017, it sold a majority stake to US investment firm Profile Capital in a deal that valued Little Dish at $21.5m (£16.5m).