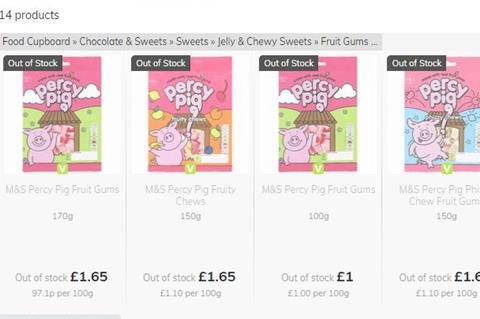 M&S products are now on display at Ocado and can be added to baskets for those with delivery slots on or after Ocado's 1 September switchover from Waitrose.
Some 4,672 products appear on the site under the search term 'M&S'. For customers with a delivery slot in August they carry an out-of-stock warning, but for those with a slot in September only Waitrose products carry the alert.
A total of 6,000 M&S products will eventually be available, replacing the 4,000 Waitrose products currently stocked. Waitrose products make up less than 10% of Ocado's food range.
Most Waitrose lines had been replaced with an M&S product of "near-identical specification" Ocado said.
"We have replaced as many Waitrose products as possible with an existing M&S product, or a new one that is being specifically developed by M&S," the company said. "There are a few products that haven't been replaced, such as the low-sellers that would naturally have been removed in our range's normal evolution."
"Whether the original products were from the premium range or the Essentials range, we have matched or improved the quality and value wherever we can," it added.
All M&S replacements will be the same or better value than their equivalent Waitrose item, notably on KVIs.
Prices: M&S compared to Waitrose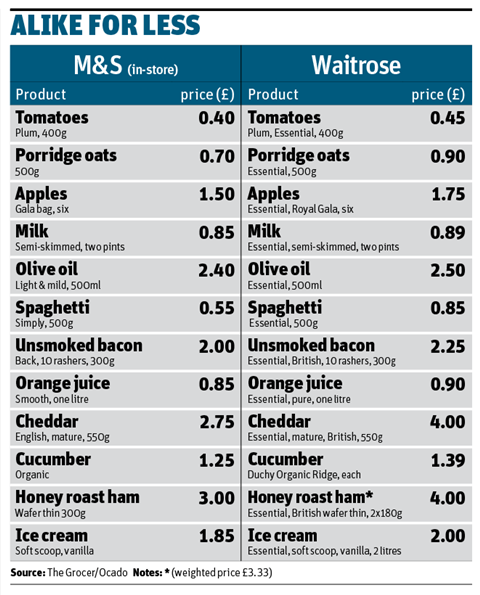 At M&S's AGM in July, CEO Steve Rowe said it had developed 700 additional lines in preparation for the launch, including "bigger pack sizes and more cupboard staples to better cater for family shoppers". The total has since risen to 750 products, and includes more scratch cooking and baking ingredients, more household and grocery lines, more organic choices, new frozen and fruit & veg lines, and an expanded soft drinks range featuring nine new flavours of juices, cordials and squashes.
"It's a big moment for us, a huge amount of planning has gone into that," added M&S chairman Archie Norman.
Ocado has also reassured customers that the like-for-like replacements will include vegan, organic and free-from items. As well as food, Ocado will be stocking around 1,500 M&S home and lifestyle products.
More than 70% of the new lines have started to land in stores across the UK, the supermarket said this week, with more arriving throughout August and September.
"One year ago today, we began the joint venture with Ocado so that customers can access the full range of delicious, great-quality M&S Food products online," M&S Food MD Stuart Machin said. "The team has worked really hard to make this happen and from today, customers can view the existing range of M&S products on the Ocado website as well as hundreds of new ones. Our customers can be confident that they will enjoy even better choice and even better value, whether shopping in-store or online."
In recent weeks Ocado has also been contacting customers who have been denied access since the beginning of lockdown. As it struggled to meet demand, Ocado prioritised long-standing and loyal customers.
According to the online grocer, about 1.1 million people are on a waiting list for the site.
"We know it's not been easy waiting to start your Ocado journey," an email to select customers read.
"It was a difficult decision, but we really appreciate your patience. The good news is that we've been working hard to unlock more capacity. We're pleased to say we can now give you access to our website."