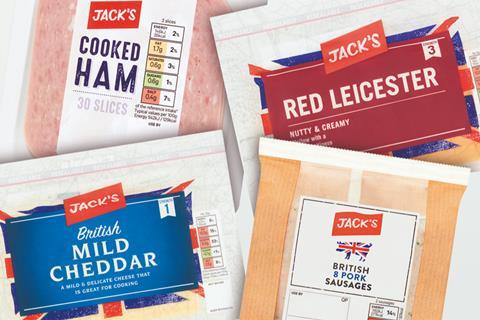 Tesco is to start selling its Jack's branded grocery products through its One Stop convenience stores.
One Stop is to start rolling out a 50-strong range of products under the discounter brand over the next few days, The Grocer can reveal.
The range will be sold in its 700 company-owned One Stop stores and also made available to its franchise stores, of which there are currently just under 200.
The initial rollout will include everyday essentials such as cooked ham and mild cheddar cheese.
"We're excited to bring the products to our One Stop customers," said a One Stop spokesman.
"With the introduction of around 50 Jack's products into stores, the range will offer our customers even more choice of great-quality, great-value food.
"A number of One Stop stores are franchises so it will be up to those individual stores to decide whether to stock Jack's, but we hope they recognise what a great offer this represents to customers."
A One Stop franchise store, based in Mount Nod, Coventry, tweeted today that it was looking forward to the launch.
"Throughout the pandemic, we started to stock Tesco products on certain lines when One Stop haven't been able to fulfil their own branded products," said co-owner Aman Uppal.
"It has gone down very well with customers so I think this is a continuation of that."
The rollout will take place in three stages over the next two months, starting with chilled and frozen lines before adding grocery and impulse products.
"We know that the Jack's range is going to be a decent quality product, but the value is going to be great too," said Uppal. "It will give us an edge on our competitors hopefully as well."
Tesco launched the Jack's discount chain in 2018 as part of its strategy to take on Aldi and Lidl. In May last year it introduced Jack's products to Tesco stores for the first time.