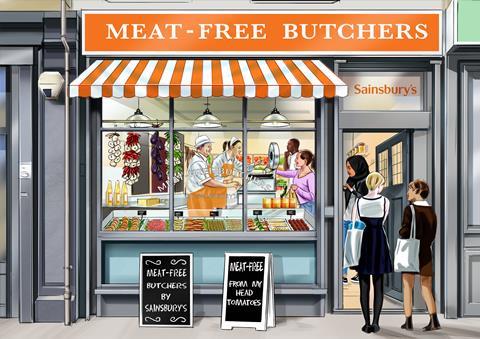 Sainsbury's is showcasing its wide range of meat alternatives by opening a 'meat-free' pop-up butchers in London.

The pop-up, on Bethnal Green Road, will run over the weekend, selling a range of vegan goods such as 'Shroomdog' sausages, pea protein mince and pulled jackfruit, and offering free samples.

It will also have an in-store butcher "specially trained for plant-based cooking", who will weigh and wrap products like a traditional butcher, as well as offering shoppers recipe advice and tips for World Meat Free Week (17-23 June).

Sainsbury's buyer James Hamilton said while sales of vegan products at Sainsbury's had surged 65% year on year, shoppers were still approaching the category with "a sense of trepidation".

"Our Meat-Free Butchers has been launched to encourage people to get up close to the products, try what they like and take home some valuable cooking advice and recipe inspiration."

It's the latest in a series of moves from the retailers, which has been at the vanguard plant-based trend.

It has significantly boosted the presence of plant-based SKUs on its shelves over the past year: in January, for instance, it added a whopping 25 SKUs to its vegan range including branded and own-label SKUs and has granted listings to more outré products such as Sophie's Kitchen vegan prawns over past months.

It was also the first UK supermarket to list Canadian meat alternative brand Gardein, which makes beefless Szechuan strips and fishless filets.