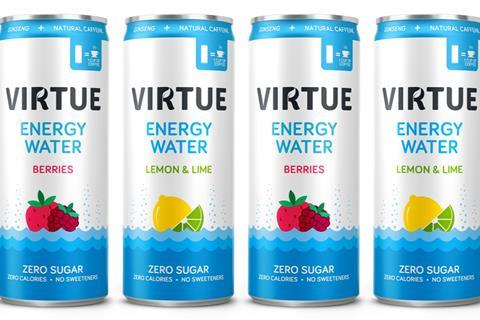 Soft drinks startup Virtue has secured a deal to be sold in Sainsbury's food-to-go fridges.
The brand's two flavours of energy water – Berries and Lemon & Lime – rolled out this week to Sainsbury's, with the grocer's forecourts to follow next month.
The listing marks Virtue's debut in the big four, having already gained listings for its water at Planet Organic, Ocado, WH Smith and Holland & Barrett.
The brand secured a listing last summer at John Lewis on Oxford Street, where it became "the best-selling drink" it claimed.
Virtue said Sainsbury's was "an ideal initial launch partner" and that it expects "further grocery listings this year".
The brand's drinks have no sugar, no sweeteners and no calories, and contain 80mg natural caffeine per can – the same as Red Bull. Natural energy was "a relatively new and fast-growing category in the UK" which had "so much growth potential considering the size of the traditional energy drink market" Virtue said.
The supplier plans to double its portfolio of products in the coming months, adding two "new to the UK" flavours to its lineup.